Blue Line Innovations LLC has announced the release of the K-9 360, which the company calls the world's first 360-degree body camera designed for law enforcement and military K-9 use.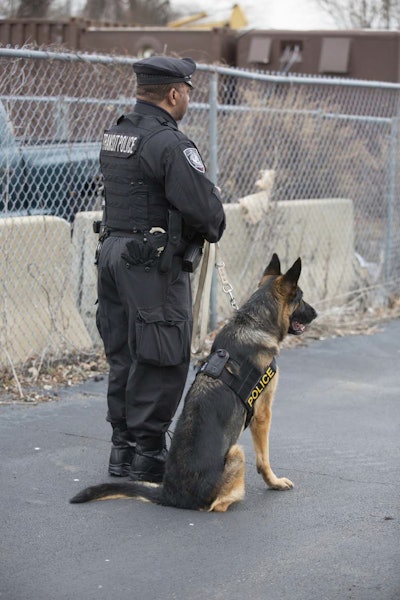 Adaptable to mount securely to a variety of K-9 harnesses, the camera provides a full view of the situation around the K-9 and handler at all times.
Just one of the camera's benefits is its low profile that allows the canine to enter tight spaces while capturing full 360-degree footage of what the dog sees and hears. The handler can monitor both the dog and the suspect's activity, location, and the apprehension in 360-degree video, while watching the search on a mobile device live via Bluetooth or Wi-Fi connection.
With up to 12 hours of operation time and 4 hours of continuous record, the K-9 360 supports public safety and humanitarian K-9 events such as building and vehicle clearance, search and rescue, border or facilities patrol, and counter narcotics and article searches.
Mark Hutchinson, founder and CEO of Blue Line Innovations, states, "The secure harness mount location provides an unobstructed 360-degree view of an event from the K-9's perspective. And, canine handlers agree that the K-9 360 camera is a revolutionary field training tool."
"The K-9 360 camera utilizes Fortify, Blue Line's case and evidence management platform. Together they are made to provide an unmatched level of transparency and secure evidential value that connects in-vehicle and body worn camera video with the cloud, resulting in a new level of awareness for law enforcement.
Blue Line Innovations will spotlight the K-9 360 along with their other 360-degree law enforcement and surveillance solutions at the Alabama Chiefs of Police Conference being held at the Renaissance Hotel in Montgomery from February 26–March 1, 2018.
For more information on Blue Line Innovations, visit www.bluelineinnovations.org.