L3 Mobile-Vision Inc. has announced the launch of its enhanced body-worn camera, the BWX-100. This newly designed body camera integrates with L3 in-car systems, each triggering the other when recording begins. Additionally, the BWX-100, which offers a 140-degree diagonal field of view, can be used with the companion LE Connect Mobile app.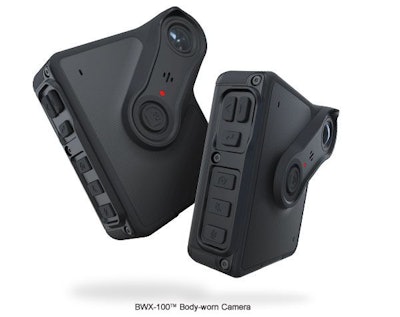 "By cross-triggering recording between the BWX-100 body-worn camera and our Flashback3 and FlashbackHD in-car video systems, agencies with current units can easily integrate the new BWX-100 with their existing systems," said Gautam Gole, Acting Vice President and General Manager of L3 Mobile-Vision, Inc. "Additionally, with full HD recording capabilities, officers can record evidence during a standard shift, then review video content via the LE Connect Mobile app over a wireless link to their smartphone. The app is available for both IOS and Android."
The enhanced BWX-100 also eases officer/device interaction with an alphanumeric LCD screen, tactile buttons, and the ability to tag videos in the field. As with previous iterations, the platform provides a fully integrated evidence management system with the ability to add notes, photos, and other digital evidence into one case file.
"We've listened to the demand from our agency partners," Gole added. "And now the BWX-100 meets and exceeds those needs."
The BWX-100 launch is the first in a series of new developments designed to advance evidence collection, value, and usability for agencies.
"L3 Mobile-Vision is in the midst of building a new video evidence capture ecosystem," said Eric Hsieh, L3 Mobile-Vision's Senior Manager of Product Management. "Designed to lay the foundation for an IoT-enabled smart solution, the BWX-100 is the first installment of an ecosystem that will provide actionable intelligence to law enforcement agencies."
For more information, visit www.mobile-vision.com. To learn more about L3, visit the company's website at www.L3T.com.