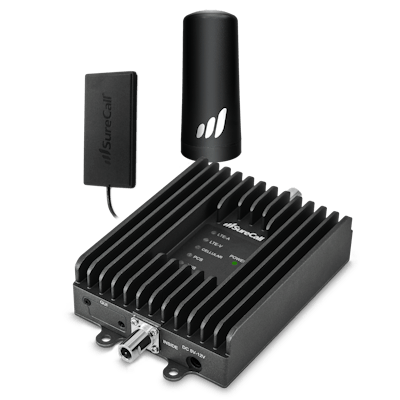 SureCall, a cell phone signal booster manufacturer, has announced the availability of the SureCall Fusion2Go 3.0 NMO Fleet. The company says this new signal booster kit is as rugged as it is powerful to meet the needs of any boundary pusher, fleet or commercial vehicle.
The new Fusion2Go 3.0 NMO Fleet is designed to outperform other in-vehicle cell signal boosters with twice the output power and significantly faster data speeds.
"For many customers, a traditional magnet mount outside antenna is sufficient, but many of our customers need something more rugged that is permanently attached," said Hongtao Zhan, founder & CEO at SureCall. "That's why we're announcing the NMO kit typically used in fleets. Coupled with the most powerful vehicle signal booster on the market, it's an excellent accessory for public safety, fleets and others who require a fixed solution."
The Fusion2Go 3.0 NMO Fleet signal booster is permanently mounted atop any vehicle to withstand the most rugged work and weather conditions. The permanent nature of this antenna requires the help of a professional installer, as the installer will need to drill a small hole in the roof of the vehicle and run the antenna's cable between the vehicle's exterior and ceiling headliner.
SureCall's Fusion2Go 3.0 NMO Fleet comes with a customer satisfaction suite that includes lifetime, 24/7 US-based technical support, a 30-day money-back guarantee, and a 3-year manufacturer's warranty.
The SureCall Fusion2Go 3.0 NMO Fleet retails for $439.99 and can be purchased through SureCall retailers.