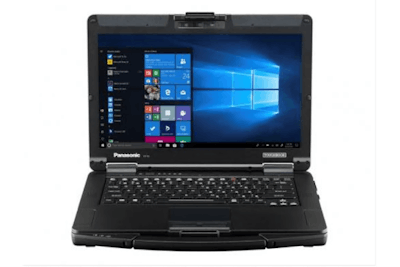 The Panasonic Toughbook 55 is the newest addition to the Toughbook family. This 14-inch semi-rugged laptop features an innovative modular design and up to 40 hours of battery life with its optional second battery. The modular design allows users to upgrade the memory, storage, keyboard, and three different expansion areas featuring additional I/O, optical drives, authentication readers, dedicated graphics, and more. Panasonic says backwards compatibility with the previous generation of docks protects customers' investments while saving time and resources.
The Toughbook 55 offers the latest Intel 8th Gen quad-core vPro processors, infrared webcam with 4 microphones, 92db speakers, color-selectable backlit keyboard, and a night mode to reduce eye strain and help preserve night vision. According to Panasonic, the Toughbook 55 is the lightest and thinnest in its class and offers optional FirstNet EM7511 Band 14 mobile broadband for maximum mobility.
For more information, visit https://na.panasonic.com/us/computers-tablets-handhelds/computers/laptops/toughbook-55.