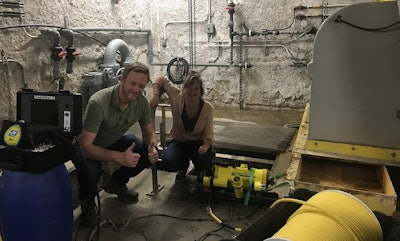 Since the late 1980s, JW Fishers' Remote Operated Vehicles (ROVs) have been critical tools used around the globe for various missions from the routine to the extraordinary.
JW Fishers' SeaOtter and SeaLion ROV systems are often used to locate drowning victims with attached sonar systems to search for ships lost at sea; or to conduct inspections on submerged tanks, dams, and water intake pipes. JW Fishers has been providing operators with top of the line ROV systems for more than 30 years.
The SeaLion-2 is JW Fishers' most popular ROV. The system comes standard with four high-performance motors, a 1,000-foot (300 meters) depth rated housing, front and rear facing camera both with pan and tilt functionality, and an on-Screen display (OSD) of basic time, date, and GPS coordinates. Illumination is provided by 4,400-lumen LEDs, and a 15-inch ultra-bright LCD monitor is mounted in the system's splash-proof Pelican case. More thrust is available with a "power boost" feature that provides the ROV with an extra burst of speed for a few seconds when it encounters heavier than normal currents. The additional payload allows the SeaLion-2 to be fitted with various options such as a SCAN650 sector scanning sonar system, a manipulator arm, scientific research equipment, or an RMD-1 remote metal detector.
The SeaOtter-2 comes with the same features as the SeaLion-2, but is rated to withstand depths up to 500 feet (150 meters). The "power boost" feature is also not available for the SeaOtter-2. Ideally, the SeaOtter-2 is suited for low current applications, including piling inspections, lake searches, tank inspections, dam inspections, and water intake inspections. When in its element, the SeaOtter-2 is an incredibly powerful tool for any operator needing reliability and efficiency in their underwater search, JW Fishers says.
One company purchased a SeaOtter-2 in 2019 for a very particular task. The engineering technician says, "we are using the SeaOtter-2 to perform a thorough visual inspection of our lake water intake piping at our pump station. We have two 48-inch lake water intakes that are approximately 975-feet long that have two cribs each. We needed an ROV that was highly maneuverable, and the SeaOtter-2 fits that bill."
They add, "By having an in-house ROV, it enables us to perform several inspections per year to monitor debris, pipe condition, and more importantly, zebra mussel infestation—as we have gone away from chlorine for zebra mussel control. Contract inspections can be quite costly, so we acquire quite a savings from owning this piece of equipment."
The water intake inspection crew put their JW Fishers ROV straight to work. "We performed our test voyage on our SeaOtter-2 today and it performed better than expected. The maneuverability is incredible. The forward video was clear and impressive as can be seen by the shot of some original markings on the inside of an intake pipe. The clear consensus is the vehicle is an invaluable tool and we are happy to have it. I look forward to continued use learning more of the capabilities," the crew leader wrote.