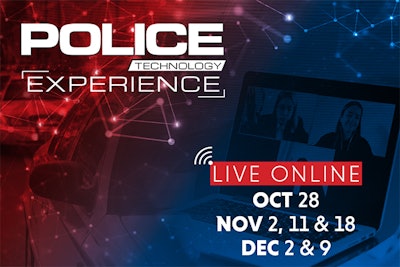 In response to all the cancellations of law enforcement conferences this year, POLICE Magazine is presenting the POLICE Technology Experience, a series of free webinars and online discussions between officers on key issues in law enforcement technology in a learning and collaborating environment.
The POLICE Technology Experience is scheduled for one session per week, during seven select weeks in October, November, and December, beginning October 28.
POLICE Technology Experience is designed to provide critical information on the use and acquisition of the latest police tools for chiefs, sheriffs, commanders, supervisors, administrators, IT directors, and other decision-makers.
Subjects to be addressed during the POLICE Technology Experience include:
* Mobile Technologies (LPR, In-Car Video, Body Worn): Best Practices for Using Evidence-Gathering Cameras at Your Agency
* Officer Efficiency Tools: Using Technology to do More with Fewer Officers
* CAD RMS Jail Management: Five ways that Database Software can Help You Improve Officer and Public Safety
* Crime Analysis Software and Facial Recognition: Lessons Learned from Users of the Latest Crime-Fighting Tools
* Managing Personnel and Scheduling: How Scheduling Tools Can Help Commanders and Supervisors Maintain Staffing Levels, Monitor Overtime, and Manage Vacation and Personal Time
* Video Analysis Redaction Surveillance and Storage: Reducing the Cost of Video Evidence Management
"With all of the law enforcement events cancelled in 2020, we recognize the need to shift how new technologies are being introduced to your departments during this critical 2021 planning and budgeting season. We also realize the social unrest in many communities and your everyday police duties make your time extremely limited," says Susan Freel, publisher of POLICE Magazine and PoliceMag.com.
POLICE Technology Experience is a free program offered by POLICE Magazine and PoliceMag.com.
For more information, go to https://www.policetechnologyexchange.com/experience.