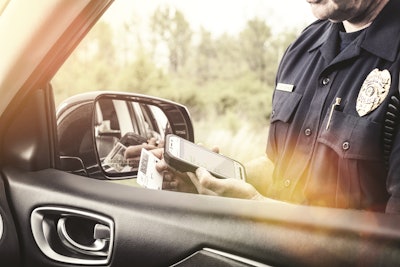 When responding to an emergency, police officers need real-time access to criminal records, warrants, vehicle information, call history, and more to help deter crime and improve public safety. To do this, officers are using rugged mobile devices built to withstand the rigors of the field—designed to survive a drop on the pavement during a traffic stop, and equipped with a daylight readable touch screen for recording evidence in a snow storm. Whether patrolling in a squad car, filing paperwork at the station, or responding to the scene of an accident, connectivity is crucial as officers face potentially dangerous situations where quick response and access to information is everything.
Thankfully, new and emerging technologies are making it easier than ever to connect officers in the field to dispatchers and command staff, and are designed to meet the varied and wide-ranging needs of today's law enforcement professionals. As policing becomes increasingly informed by data, law enforcement agencies are deploying mobile devices to ensure that officers are equipped with the most up-to-date information needed to make informed decisions. With these tools, officers can optimize productivity and reduce risk when facing everyday situations, such as issuing a traffic citation, making an arrest or searching the streets for a stolen vehicle. Using a combination of mobile hardware and law enforcement software, along with newer resources like FirstNet, officers can do their jobs safely and more efficiently.
Writing Tickets and Issuing Citations
For many people, the most likely interaction with a law enforcement officer is being pulled over for a speeding ticket or other moving violation. In fact, recent data finds that up to 50 million traffic tickets are issued in the United States each year. Despite this frequency, a simple speeding ticket can often spark a more serious situation. Traffic-related incidents remain one of the most dangerous activities for police officers, reinforcing the need for devices that help officers understand the driver in question.
After stopping a vehicle, many officers use a mounted laptop or tablet inside their patrol car to search law enforcement databases and license plate registries to get a better understanding of the person behind the wheel. To uncover personal background and previous violations, this information must be up-to-date and easily accessible so officers can prepare for possible escalations. Additionally, we're seeing officers use tablets and handhelds when face-to-face with a stopped driver to record license and registration information. These devices limit the number of times an officer needs to return to their patrol car, and allows the officer to build rapport with the driver and create a more positive interaction overall.
While mobile technology is becoming increasingly common in patrol cars, the issue of distracted driving is a growing concern for law enforcement agencies. Before a traffic stop is made, officers are using their mobile devices to run license plates and access databases, all of which can take their eyes off the road. To improve safety, agencies can opt for laptops or handhelds that offer features to help minimize distractions, such as speech-to-text functionality and biometric authentication. When choosing a mobile device, department IT managers should also explore different in-vehicle mounting options, which put devices in easy reach to maximize space and reduce the risk of distracted driving, creating a safer and more efficient work environment.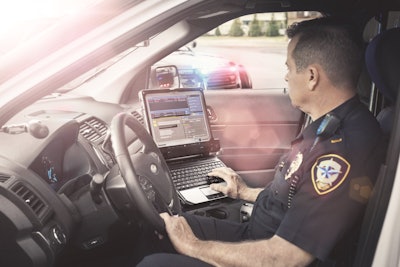 Capturing and Transmitting Data from the Field
Whether covering a crime scene or responding to a traffic accident, data capture and sharing is critical when responding to any emergency. Law enforcement agencies often work hand-in-hand with other first responders, and every organization involved needs the ability to gather information and share it in real time. New technologies are making this process faster and more seamless than ever before and, as a result, officers can solve crimes and protect communities more effectively.
The ability to capture data starts with the right tools for the job. During any situation, an officer might need to take pictures, record videos, capture conversations with witnesses, type notes, or catalog evidence. This is where a multi-functional device, such as a 2-in-1 laptop or detachable tablet, can be of use. These rugged devices can be used when mounted inside a patrol car or removed to be held in the hand when surveying a scene. They are purpose-built to withstand extreme environments—from heavy rain and winds, to severe temperatures—and feature touch screens designed specifically for outdoor view and use. By eliminating paper logs, officers can quickly and easily complete inspections and share actionable intelligence from the field.
Communicating With Dispatchers and First Responders
Whether it's police, firefighters, or EMS, public sector organizations have one thing in common—dedication to protecting their communities. While emergency management as a whole continues to evolve, reliable connectivity will always be essential when it comes to restoring public safety. In fact, it is estimated that nearly 240 million 911 calls are made in the United States each year. While these situations vary in degrees of severity, police officers must be able to remain productive and communicate securely, anytime, anywhere. The good news? Mobile devices are simplifying this mission-critical communication, and there are dozens of solutions available today that meet the unique needs of law enforcement agencies.
The launch of FirstNet is bringing officer connectivity to an entirely new level, as this dedicated network is poised to revolutionize how first responders communicate on the job. FirstNet was created to link first responders across the United States, regardless of network coverage or physical location. Through a separate, dedicated network core, first responders' cellular traffic is prioritized above that of commercial customers, allowing users to send and receive data in real time. Today, officers are using FirstNet on their devices to stay connected when facing a widespread emergency, such as a natural disaster or shooting incident, where seconds matter in the response and recovery process.
The reliability of FirstNet, coupled with the durability of rugged mobile devices, allows first responders to stay connected and share information from the field in real time. For example, an officer might use a handheld device to record a video at the scene of a fire and send it to firefighters before they arrive. Or, when responding to a traffic accident, an officer can send high-resolution images to the emergency room so doctors can assess potential injuries before victims arrive at the hospital. With the power of FirstNet and the widespread use of mobile devices in public safety, first responders are better equipped to protect their communities and improve their own safety.
Finding the Right Devices for Your Department
While law enforcement once had the reputation of being a technology laggard, today the industry is innovating at an unprecedented rate. At the same time, the role of a police officer has become increasingly multi-faceted, and it is crucial that agencies upgrade their tools to match the pace of this evolution. To get started, agencies can partner with a technology vendor who can work closely with IT managers to identify the best rugged devices for the department, based on size, location, budget, and more. The right partner understands the rigors of law enforcement today, but is already preparing for the challenges that officers will face tomorrow, and has expertise in the latest technologies, like FirstNet.
In today's climate, police officers are looking to become more community-facing without limiting their ability to access the right information when they need it. To achieve this, officers need solutions that let them work seamlessly across a number of different environments. Whether in the field or at the station, every hour can present a new situation, which requires connectivity and communication between officers and other key responders. With the right tools, officers can swiftly respond to the calls they face on a daily basis, while focusing on the things that matter most—protecting communities and saving lives.
Alex Nollmann is the national sales director for Panasonic North America.