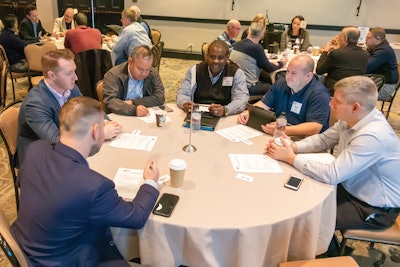 Last month law enforcement leaders and technology personnel held one-on-one meetings with representatives from some of the market's leading technology companies at the first POLICE Technology eXchange (PTX).
Held Dec. 9 through 11 at the Scottsdale Resort at McCormick Ranch in Scottsdale, AZ, PTX 2019 was a hosted buyer event where invited agency personnel ("delegates") met with technology companies ("supplier hosts") about products they are interested in buying.
PTX is not a trade show. It's a much more streamlined and compact event. PTX is "a small gathering by design," says POLICE Publisher Leslie Pfeiffer. "Because PTX is small it gives a diverse yet select group of law enforcement delegates and suppliers the opportunity to build unique relationships that will last long after PTX is over."
In addition to meeting with suppliers about technologies that can help their agencies overcome the challenges presented by contemporary policing, law enforcement agency delegates had an opportunity to network with colleagues at meals and other social gatherings.
During moderated roundtable discussions, the law enforcement professionals discussed such issues as: funding technology acquisitions, body camera concerns, digital evidence management, the implementation of drone programs, how technology can support recruiting and retention of officers, buying public safety software, the role of artificial intelligence in law enforcement technologies, and how technology is helping agencies investigate crime.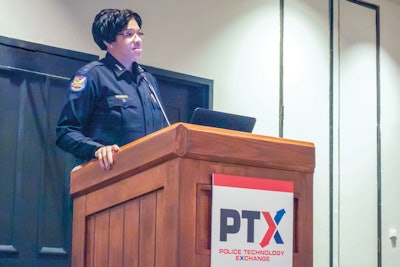 Keynote speakers for PTX 2019 included Rick Smith, CEO of Axon, and Jeri Williams, chief of the Phoenix Police Department. Smith appeared via an Avatar virtual presence system and spoke about technology trends in law enforcement and the overall technology market. Williams discussed how technology is being used to address specific challenges at the Phoenix PD. For example, the agency is working with Axon to link its computer-aided-dispatch system with its body-worn cameras. Williams said the agency plans to issue smartphones to officers, and it is using online training to maximize the hours that officers can stay on the street.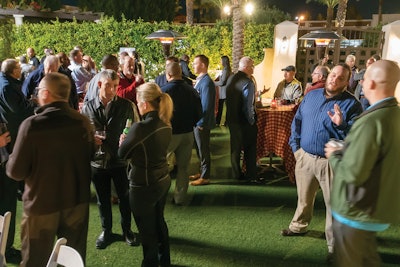 Delegates at PTX 2019 included personnel from: the Albany (GA) Police Department, the Albuquerque Police Department, the Antioch (CA) Police Department, the Camden County (NJ) Police Department, the Chicago Police Department, the Clark County (WA) Sheriff's Office, the Columbus (OH) Division of Police, the Flagstaff (AZ) Police Department, the Forsyth County (GA) Sheriff's Office, the Garland (TX) Police Department, the Grand Rapids (MI) Police Department, the Greensboro (NC) Police Department, the Henderson (NV) Police Department, the Los Angeles Police Department, the Louisiana State Police, the Louisville Metro Police Department, the Mesa (AZ) Police Department, the Miami Gardens (FL) Police Department, the Rockford (IL) Police Department, the Scottsdale Police Department, the Tucson Police Department, the Vineland (NJ) Police Department, and the Wayne County (MI) Police Department.
Supplier hosts who participated in the event included: Acadis Readiness Suite, Aviglion-a Motorola Solutions Company, Clearview AI, Cognitec Systems, LexisNexis Coplogic Solutions, Nuance Dragon Law Enforcement, Orion Filters, TargetSolutions, Tyler Technologies, Versaterm, Vigilant Solutions, and Xtreme Performance Lab. AEE Technology and Innocent Armor participated as demonstration supporting sponsors.
Planning for PTX 2020 plus other POLICE eXchange events is under way. More information will soon be available on PoliceMag.com and in POLICE Magazine.