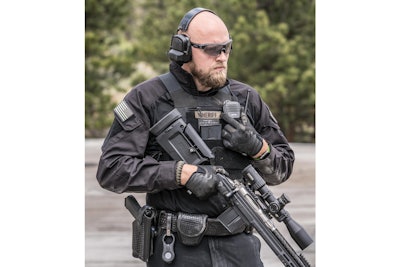 When the engineers at OTTO were asked to develop the company's new NoizeBarrier Range SA headset, they were given two seemingly conflicting objectives: The product had to offer excellent hearing protection and it had to give the wearer enhanced hearing of ambient sounds.
Specifically designed for law enforcement and military personnel, the NoizeBarrier Range SA can be worn during firearms training and for critical incidents where hearing protection and advanced situational awareness are needed.
"One of the things we have heard consistently in our feedback from law enforcement is that the Range SA provides extremely natural and clear sound reproduction," says Jim Hubbard, OTTO's director of sales. The Range SA was designed to provide clear audio without muffled or muddied tones typical of active hearing protection, and without the tinniness and distortion that has been found in other products.
Hubbard says the headset's ability to enhance sound and speech is also being praised by customers. Customers have told him they can hear engines idling, footsteps, and other low decibel sounds while wearing the headset. "The headset's ability to drastically minimize background noise, while allowing users to maintain awareness of other operators and conduct normal conversations with teammates has proved invaluable in situations ranging from warrant arrests, to mechanical breaching using a ram, to where night vision devices are rendered ineffective, forcing officers to rely on hearing just as much as sight," he adds.
Still, the first goal for the headset's development team was hearing protection, and the NoizeBarrier Range SA achieves that objective as well. The headset offers standard noise reduction of 23 decibels but where it really excels is at reducing impulse noises to safe levels where they will not damage the user's hearing. Hubbard says the headset protects the wearer's hearing from gunshots and resets to enable situational awareness in milliseconds. "What that means is the officer wearing this headset will not lose any verbal commands or communications when that impulse noise is detected," he explains.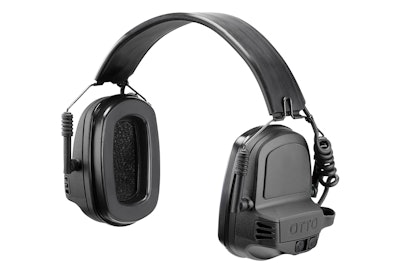 OTTO makes two NoizeBarrier headsets: The Range SA and the TAC. The TAC offers the same hearing protection and 360-degree situational awareness found in the Range SA, but has a noise-canceling boom mic. Hubbard says the TAC headset was designed for military operations and for law enforcement tactical units that need both hearing protection and two-way communications.
Even though the SA model was not designed for communications, OTTO has designed a downlead that plugs directly into an officer's shoulder mic, allowing the headset to receive audio, while still using the PTT on the mic for outbound communications.
According to Hubbard, the ability for the NoizeBarrier Range SA to transition from a range headset to a tactical gear solution in seconds helps prepare first responders for life-threatening situations that would have traditionally left them ill-equipped. "Often times first responders are not SWAT teams, and not every department can afford to kit out every officer in full tactical gear. Our goal was to prepare officers in high-risk/high-threat situations to quickly have access to quality hearing protection and enhanced situational awareness, allowing them to make the best decisions during an operation. At $399 list price, it's an economical solution for many departments, as the NoizeBarrier TAC can list up to $825 fully kitted out," he says.
Hubbard adds, "What we're finding is that more agencies are putting the Range SA into the go bags of their patrol officers. That way when a critical incident call comes in like an active shooter situation, they can connect it to their speaker microphone and have comms, enhanced situational awareness, and hearing protection from gunshots when they need these things most."
David Griffith is editor of POLICE/PoliceMag.com.