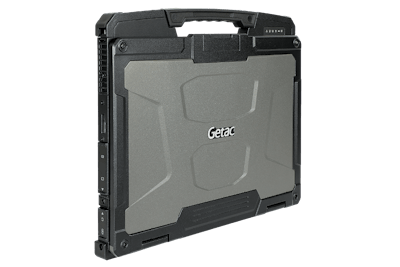 The first thing any knowledgeable law enforcement user of fully rugged laptop computers will notice about Getac's new B360 is its look. For a fully rugged laptop, it's really thin.
"Historically, rugged meant thick, and it meant heavy," says Joe Martin, Getac's director of product solutions. "When designing the B360, we looked at how we usually construct these devices. Then we asked ourselves how we could make them thinner and lighter."
The goal according to Martin was to produce a fully rugged laptop with the form factor of a semi-rugged machine. The result is that the B360 is 44% lighter and 41% thinner than its predecessor, the B300.
What Getac quickly learned when making the B360 was that the latest computer components are smaller and lighter than they were 12 years ago when the first generation B300 was designed. By rethinking how the computer was engineered, Getac produced a feature-filled laptop that was smaller and more portable.
That smaller form factor is also beneficial inside patrol vehicles, according to Martin. "Customers told us they didn't have as much room in their mobile offices and needed a smaller notebook. The days of the Crown Vic are gone," he says.
Despite its smaller, thinner case, the B360 can take some serious punishment and keep ticking. It's rated for MIL-STD 810H for such issues as impact, vibration, heat, cold, and other threats to electronics. It's also been tested to survive drops of six feet onto a hard surface.
The B360 is also rated IP66 vs. the B300's IP65 rating for dust and fluid exposure. IP66 means the B360 is rated "dust tight" not just dust protected. For fluid exposure, the B360 can withstand three times the pressure of water that the IP65 rated B300 could survive. "We took great care in securing the pressure of the O-rings around the connectivity ports. It's not quite submergible, but it's close."
In addition to its rugged construction and engineering, the B360 offers some innovative features for screen visibility, wireless connectivity, and internal components.
The B360 offers one of the brightest laptop displays on the market. Getac's law enforcement customers wanted a machine that could be used easily in daylight. So the company created a 1,400-nit display for the B360 that is readable in bright daylight.
Connectivity is another major feature on the B360. It's ready for today's dedicated public safety broadband systems. And it's also ready for tomorrow's networks. "It's future proofed," says Martin. "We engineered it for 5G when that's ready and when the modem is ready, we can easily put it into the device," Martin says.
Wireless connectivity built into the B360 makes it suitable for both in-vehicle and out-of-vehicle use in the field. "Wherever you are, you can still access the data and applications that you need," Martin says.
The Getac B360 is available in a variety of configurations with different processors, on-board memory, solid state hard drives, and input devices. For dual factor authentication, agencies will be able to use fingerprint scanners or RFID readers.
Getac's B360 fully rugged notebook is available now at prices comparable to the B300. "One of our goals was to keep the price the same or bettering it," Martin says. "We've been very sensitive to the budgetary needs of our customers."
For more information, go to www.getac.com.