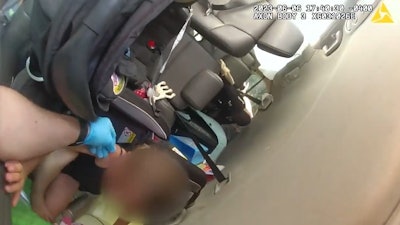 Hillsborough County (FL) Sheriff Chad Chronister says the actions of his deputy were nothing short of extraordinary when he helped rescue a mother and her five children trapped inside an overturned minivan Tuesday.
After Mindy Bosshart's minivan flipped on its side, Sgt. Donnie Rizer came across the crash in which good Samaritans were helping victims inside a minivan that rolled over on its side.
Rizer discovered two small fingers through the sunroof. The HCSO says Rizer then risked his own safety, and removed his vest and equipment belt to crawl into the vehicle, rescuing the last child and ensuring their safety.
Sgt. Rizer told Fox 13 he was doing his job that day when he helped rescue the kids and their mother. He said during a media briefing Thursday evening that he was on his way home Tuesday when he got the call about a crash just around the corner from him.
"First thing that kicks into your mind was my child, my child when he was that age or if that was my daughter. The emotions run wild," Sgt. Rizer said. "You have to stay focused, but your emotions run wild, you're a human being, so you're going to have those emotions."
"To be able to help her and see how glad she was to get out of belt and get out of that vehicle into my arms – that was probably one of the most gratifying things you could ask as a law enforcement officer, as a human being," Sgt. Rizer said.