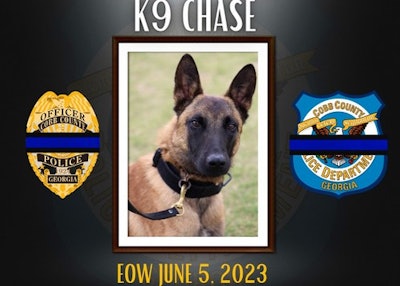 A Cobb County (GA) Police K-9 died Monday after overheating in a police vehicle with an apparently malfunctioning air conditioning system.
Officers were attending scheduled active shooter training at the school around 2 p.m. when K-9 Chase was found unresponsive in the patrol vehicle by K-9 Officer Neill, Cobb County Police said.
"Life-saving measures were started by Officer Neill, other Cobb Officers, and Cobb County Fire personnel (also attending the active shooter training). K-9 Chase was then transported to a nearby emergency veterinarian clinic. But the efforts were not enough to save him, and he succumbed to his heat-related injuries," police said.
Police said officers had been at training since 11 a.m. and had been checking on their K9 partners on the hour for 15-minute breaks between each 45-minute training session.
"At some point after the previous check, the air conditioning system malfunctioned in Officer Neill's patrol vehicle. Preliminary information indicates that other safety systems did not properly activate, and the temperature quickly rose in the vehicle," the police said in a statement.