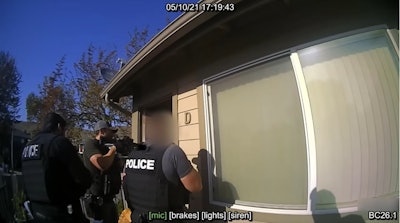 San Luis Obispo, CA, police on Wednesday released video of the 2021 shooting that killed Det. Luca Benedetti, showing that a mentally ill man fired first after officers broke down the door and attempted to serve a search warrant.
The "deeply disturbing" footage comes more than two years after the incident at an apartment complex. The shooting on May 10 also gravely injured Det. Steve Orozco and left the man, Edward Giron, dead.
An autopsy of Giron ordered by his family showed he was shot 14 times, including a fatal, apparently self-inflicted gunshot wound to the head, SanLuisObispo.com reports.
In 2021, the department was investigating a string of commercial burglaries that all used the the same vehicle — a light-colored GMC envoy. The owner of the fourth business that was targeted recognized Giron from security footage as a former employee.
Hours after the fourth burglary, officers connected Giron to the GMC Envoy, and a judge eventually approved a search warrant for the apartment.
Benedetti, Orozco and other officers arrived at the apartment at around 5:13 p.m. to serve the warrant. Benedetti was fatally shot after the door was breached. He was calling out to the suspect when he was shot.
Officers then engaged in a gunfight with the suspect.