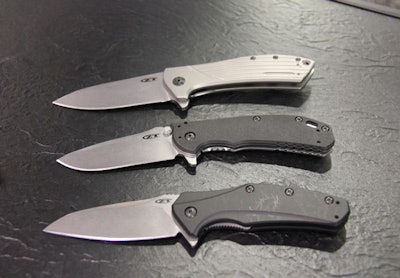 Kershaw Knives brought three durable Zero Tolerance folders to SHOT Show in Las Vegas that offer Elmax Swedish steel construction and smooth flipper actions.
The ZT 0801, which was desgined by Colorado knife maker Todd Rexford, offers solid titanium handles, decorative pivot hardware, and a smooth locking and unlocking action. This drop-point knife uses a flipper to open and will retail for $240.
The ZT 0566, which was designed by Rick Hinderer, is a down-market version of the company's ZT 0560. The ZT 0566 employs flat G10 handles made from 410 stainless steel rather than 3D-machined, textured titanium. The Elmax blade is also a drop-point. The knife will retail for $180.
The ZT 0770 was based on Kershaw's "triple seven" ZT 0777 folder. The new, smaller version offers an alunimum handle, which makes it light and strong. It will retail for $180.
All three knives will be available in the third quarter, a Kershaw rep told POLICE.
Related:
SHOT Show 2013: SIG Sauer's SD Silencers
SHOT Show 2013: Blackhawk's Go Bags
SHOT Show 2013: Trijicon's 300 AAC Blackout ACOG
SHOT Show 2013: New .45s at Media Day