ATK's Blackhawk brand introduced a slew of concealed-weapon carry bags and go bags for off-duty and duty use at SHOT Show in Las Vegas.
The Blackhawk Diversion line includes seven offerings including the Carry Racquet Bag, Workout Bag, Carry Backpack, Carry Sling Pack, Range Bag, Board Pack, and Courier Bag.
The bags were designed to provide officers greater stealth when transporting weapons to and from home. The racquet bag looks like its carrying a "crappy tennis racquet," a company rep told POLICE Magazine. The Board Pack can carry a skateboard, while the Carry Sling Pack offers female officers an alternative to a purse when carrying concealed.
The bags range in price from $65 to $175.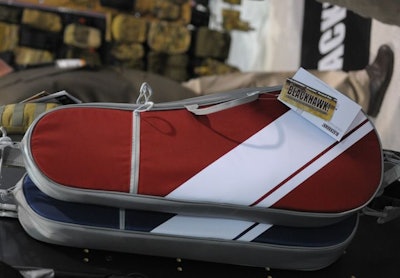 The Blackhawk Block and Brick go bags offer greater organization and protection for gear such as flashlights, knives, trauma care supplies, hydration bottles, and snacks.
The Brick's sling-style design allows its user to rotate it forward for faster access to its contents. The internal loop-lined compartment offers adjustable dividers, and the bag provides two external pockets for smaller items. It retails for $99.
Related:
SHOT Show 2013: SIG Sauer's SD Silencers
SHOT Show 2013: Kershaw's Three Zero Tolerance Folders
SHOT Show 2013: Trijicon's 300 AAC Blackout ACOG