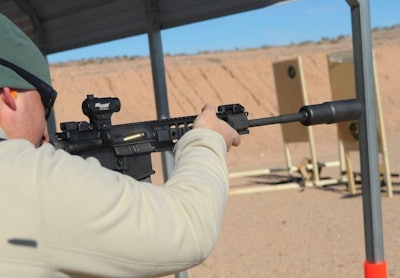 SIG Sauer brought its new line of SD silencers to the SHOT Show in Las Vegas for precision law enforcement shooters.
Most notably for officers, the SIG-SD line includes 5.56mm and 7.62mm silencer, including a 5.56 "DNA collector" with raised teeth. The line also brings two 9mm variants—one for pistols and another for subguns. Lastly, a .22LR silencer is available for rimfire rifles and pistols.
The tapered shape of the 5.56mm and 7.62mm SIG-SD silencers, which have a 2-inch tube, allow them to be used under certain longer handguards and rails. This allows for greater gas volume in a compact package, which reduces heat, back pressure, and sound signature. A high nickel content stainless steel is used for both the tubes and the baffles.
SIG-SD rifle silencers are available with or without a rebar cutter machined into the muzzle. Wrench flats are also machined into the SIG-SD silencer to allow for proper torqueing onto the barrel. For running a silencer under a forend, the rebar cutter doubles as a wrench point.
The 9mm SIG-SD pistol silencer employs a liquid cooling agent to allow the silencer to be lighter and shorter than competitors' suppressors. At just 3.7 ounces and less than four inches in length, the 9mm SIG-SD silencer does not require a piston or Nielsen-type device to properly function. The 9mm silencer is threaded 13.5-by-1LH.
Related:
SHOT Show 2013: Blackhawk's Go Bags
SHOT Show 2013: Kershaw's Three Zero Tolerance Folders
SHOT Show 2013: Trijicon's 300 AAC Blackout ACOG
SHOT Show 2013: New .45s at Media Day