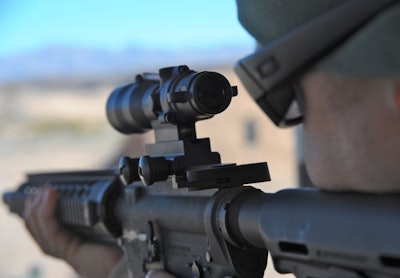 Trijicon introduced an ACOG optic at SHOT Show in Las Vegas designed for the 300 AAC Blackout round that's gaining wider use in law enforcement.
Trijicon's ACOG (Advanced Combat Optical Gunsight) 3x30 optic with a 300 AAC Blackout reticle provides sighting for supersonic and subsonic velocities. Like other ACOG optics, this sight is a fixed-power, self-luminous sight that uses internal phosphor illumination from decaying tritium.
The 3x30 model, which requires no batteries, incorporates a ballistic drop compensator and requires users to aim with both eyes open.
Utilizing standard 16-inch barrel velocities, the 300 AAC Blackout reticle is designed to be calibrated with supersonic (115 grain) ammunition. Users zero the scope at 100 meters using the center of the crosshair. The bottom tip of the crosshair serves as the 200-meter supersonic aiming point.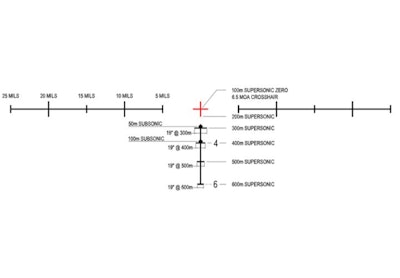 The ballistic drop compensator's stadia lines represent the supersonic hold-overs for 300, 400, 500, and 600 meters. To aid in ranging, the width of the stadia lines represent 19 inches at the specified distance.
After zeroing with supersonic ammunition, the top and bottom diamonds serve as the subsonic (220 grain) aiming points for 50 meters and 100 meters respectively. The top diamond serves as the aiming point for targets as far as 50 meters.
Related:
SHOT Show 2013: Blackhawk's Go Bags
SHOT Show 2013: Kershaw's Three Zero Tolerance Folders
SHOT Show 2013: SIG Sauer's SD Silencers
SHOT Show 2013: New .45s at Media Day