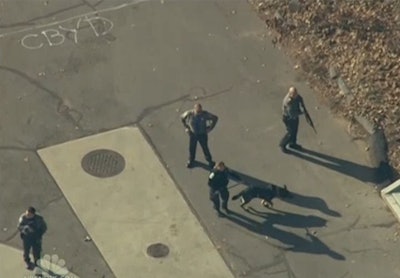 A gunman killed his mother, then drove to a Connecticut elementary school Friday and fatally shot 26 people, including 20 children, before killing himself.
Connecticut State Police troopers and Newtown Police officers responded to Sandy Hook Elementary School shortly after the initial 911 call at 9:30 a.m. The shooting is the second deadliest in U.S. history behind the 2007 Virginia Tech massacre, in which 33 were killed.
The gunman, who has been identified as 20-year-old Adam Lanza, killed himself after shooting children and teachers in two classrooms, reports NBC News. Two wounded children died later at a local hospital. In addition, police discovered a second crime scene in Newton where they found his mother, Nancy Lanza.
Four guns, including a pair of 9mm handguns and a .223-caliber Bushmaster rifle used primarily in the attack, were recovered from the scene, reports the Associated Press.
Law enforcement personnel from various federal and local agencies responded to the scene, including several off-duty troopers. Officers searched the K-4 school, which has about 450 students, and secured the scene, Lt. Paul Vance told reporters.
During the active-shooter search, troopers were "checking every door, every crack, every crevice," Vance said.
Typically, school districts are leery about assigning an armed school resource officer to elementary schools, Robin Hattersley Gray, executive editor of Campus Safety Magazine, told POLICE.
"With budgets the way they are, if anything they're cutting back," Hattersley Gray said. "Elementary schools are hesistant to have an officer who is armed walking around campus."
Related:
Conn. Gunman Killed Mother Before Deadly Rampage
Early Moments of Conn. Shooting Heard In Dispatch Audio
Obama: 'Our Hearts Are Broken' for Conn. Victims
Honoring the Sandy Hook Shooting Responders