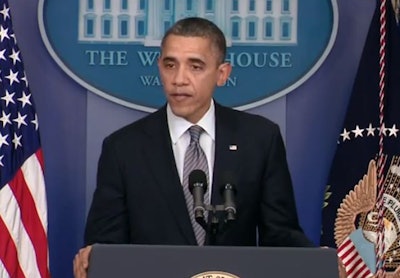 President Obama told a grieving nation that "our hearts are broken" by a school shooting in Newtown, Conn., which claimed the lives of at least 27 people, including 20 children.
During remarks from the White House, an emotional Obama said he reacted to the incident not as a president but as a parent. Often pausing to get through his remarks, Obama pledged "meaningful action" to prevent such future killings, perhaps hinting at future legislation.
"The majority of those who died today were children—beautiful little kids between the ages of 5 and 10 years old," Obama said. "They had their entire lives ahead of them—birthdays, graduations, weddings, kids of their own."
Watch Obama's entire speech here.
Related:
Early Moments of Conn. Shooting Heard In Dispatch Audio
Conn. Gunman Killed Mother Before Deadly Rampage
27 Killed in Connecticut School Shooting
Honoring the Sandy Hook Shooting Responders