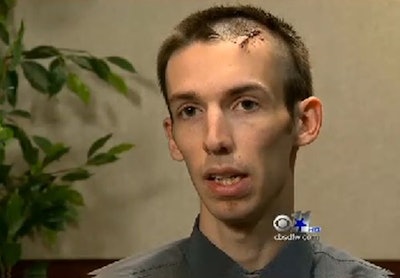 The Texas deputy who pulled over Evan Ebel's black Cadillac Thursday wasn't aware of his subject's role in the death of Colorado's prison chief. Montague County (Texas) Sheriff's Deputy James Boyd pulled over the vehicle for a simple traffic violation, but his intuition gave him other signals.
In an interview with The Denver Channel, Deputy Boyd said "something just didn't look right with the car" when he pulled it over at 11:20 a.m. After pulling to a stop, the Cadillac's driver immediately opened fire on the deputy.
"I remember seeing the gun shoot off," Boyd said from a room at Texas Health Harris Methodist Hospital in Fort Worth. "I could see the cartridges fly out, at which point I blacked out."
The deputy radioed for help and gave a description of the black Cadillac. Ebel was being sought in the murders of Colorado prison chief Tom Clements and Denver pizza delivery driver Nathan Leon.
Authorities discovered evidence in the Cadillac linking Ebel to the earlier murders, including bomb-making materials, hand-written directions to Clements' home, a Domino's shirt and pizza delivery container.