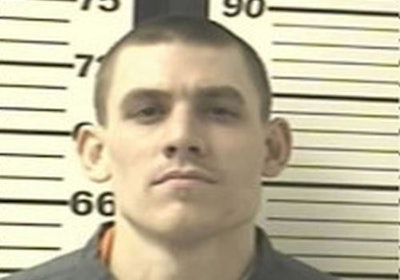 A white supremacist gang member suspected of killing Colorado's top corrections official at his home died on Thursday following a shootout with officers in Texas.
Evan Ebel, 28, led officers on a wild chase Thursday morning after Montague County (Texas) Sheriff's Deputy James Boyd pulled over Ebel's 1991 black Cadillac, reports the Fort Worth Star-Telegram.
Authorities continue to investigate Ebel's role in the slaying of Tom Clements, executive director of the Colorado Department of Corrections, and a pizza delivery man in Denver.
Citing unnamed law enforcement sources, the Denver Post is reporting that Ebel is associated with the violent white supremacist prison gang 211 Crew. Members recruited in prison must earn for the gang through narcotics and weapons trafficking.
Deputy Boyd pulled over the black Cadillac at about 11 a.m. The driver shot the deputy three times, striking him twice in the chest and once in the head. The deputy is expected to recover. A Texas DPS trooper radioed that the deputy was shot and units from several agencies pursued the Cadillac south on U.S. Route 287.
During a pursuit that reached speeds of 100 mph, Ebel fired several times at pursuing units, striking a Wise County Sheriff lieutenant's car.
Ebel's car was struck by a large rock hauler as he attempted to turn from a farm road onto U.S. Route 380. He bailed out of the vehicle and opened fire on officers, who returned fire and fatally shot Ebel.