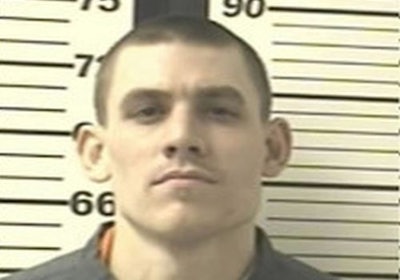 A story that has its beginnings at the Denver County Jail in 1995 ended on a Texas highway following a 100 mph vehicle pursuit that climaxed in a fiery crash and firefight with police.
"Evil Evan" Ebel died Thursday. He had fired on police officers; wounded a Montague County (Texas) Sheriff's deputy; and later shot at Decatur Police units. Their return fire ended his criminal rampage.
The black Cadillac Ebel was driving had Colorado plates which, along with the other evidence, linked him to the ambush murder of Tom Clements, the executive director of Colorado's prison system, and Nathan Leon, a Dominos pizza delivery driver. Ebel was a member of a prison-spawned gang called the 211 Crew.
The 211 Crew is a white-supremacist prison gang. The loosely structured group had its early formation in 1995 at the Denver County Jail, and its members included a wanna-be rapper and white inmate whose crime partner was black.
The 211 Crew drew their name from the California Penal Code section for robbery (211P.C.), but there is little evidence connecting the gang or its members to California.
As 211 Crew members grew in criminal sophistication, their numbers and influence also increased. Over the years, members did time in state and federal prisons, coming under the influence of other "security threat" groups and prison gangs such as the Aryan Brotherhood.
This prison indoctrination by other white-supremacists resulted in the 211 Crew eventually being identified and validated as a prison gang. The gang identifies themselves primarily with the numbers 211, as well as white power and Nazi symbols in the form of tattoos and drawings. A triangle with fists holding crossed lightning bolts over the number 211 inside the triangle is sometimes used.
The gang has a loose paramilitary structure with designated ranks of president, vice president, major, captain, and lieutenant. Members operate both in and out of custody. Some members have been identified in other state and federal systems. The gang was originally organized as a robbery team. For self protection, the gang expanded its resume to drug dealing, identity theft, extortion, and weapons trafficking.
An infamous and racially motivated shooting occurred in Denver on November 18, 1997 that involved the 211 Crew. Jeremiah "Hooligan" Barnum (a 211 Crew member) and Nathan Thill (a neo-Nazi) shot and killed African immigrant Oumar Dia while he was waiting at a Denver bus stop. When good Samaritan Jeannie Van Velkinburg attempted to come to the aid of Dia, she was shot by Thill and paralyzed. Barnum himself would later be shot and killed as he attempted to attack an Englewood officer and wrestled for his gun on Feb. 23.
The 211 Crew has been linked to jail and prison stabbings in Colorado and Arkansas. On Dec. 11, 2007, 211 Crew leader, Benjamin Davis, was convicted and sentenced to 108 years in prison under Colorado's Organized Crime Control Act.
Denver PD's Sgt. Philip J. Swift, a 211 Crew expert, included a detailed history of the 211 Crew in "Gangs, Outlaw Bikers, Organized Crime and Extremists."
We also have some knowledge about Ebel from media reports. Evan was the 28-year-old son of a prominent Denver defense attorney named Jack Ebel, who blamed solitary confinement for damaging his son's psyche. Evan Spencer Ebel signed his name that way and had tattooed "Hopeless" on his body. His downward spiral was a self-fulfilling prophesy.
His wayward life began with several criminal convictions in 2003. He was sentenced to a halfway house, where he picked up two additional robbery cases. The following year with three- and eight-year state prison commitments, he was off to the Big House.
But according to Michael Zennie's March 22 article in the Daily Mail Reporter, Ebel was paroled January 28, after serving his full prison term. The last four years of his sentence were for punching a prison guard in 2008.
The article quotes an old teenage friend of Ebel. "He had a hair-trigger temper as a kid, but his dad was so nice," said Vicky Banky. And Gov. John Hickenlooper, who knew Jack Ebel, said "Evil Evan was dangerous. He just had a bad streak. Jack and his wife did everything they could. Nothing worked."
At about 8:45 p.m. on March 19, Tom Clements was shot in the chest when he answered the front door of his home in Monument. Clements was well liked in his organization and considered an inspirational leader. Gov. Hickenlooper said, "Tom Clements dedicated his life to being a public servant, to making our state better, to making the world a better place. And he is going to be deeply, deeply missed."
What motivated his killer to murder him remains unknown. The murder of the 27-year-old Nathan Leon also remains a mystery, but a Domino's delivery box and shirt were recovered from the trunk of the black Cadillac.
Almost 700 miles from where Clements was murdered in Colorado, Evil Evan would meet his evil end. Montague County Deputy James Boyd pulled the black Caddy over at about 11 a.m. Ebel opened fire and struck the deputy twice in the body and once in the head. The body shots hurt but were caught by his vest. The head wound was serious although not fatal, and the deputy radioed for help. A 30-miler high-speed pursuit followed. Ebel fired at the pursuing units during the chase.
An 18-wheel rock hauler ended the Cadillac's escape attempt in a fiery crash, and the 211 Crew member came out shooting again. Decanter Police Chief Rex Hoskins' vehicle was hit by one round and Ebel was hit in the head by return fire. Although Ebel was transported to a trauma center he would later die of his injuries.