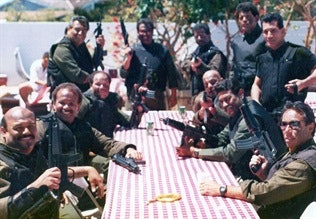 The Los Angeles County Sheriff's Operation Safe Streets gang unit began seizing sizable quantities of narcotics and developing information on its origin while working out of the Lynwood station in the early 1980s.
We knew the dope financed and fueled the violent street gangs in Compton and the surrounding cities. We learned that both the major Latino and African American gangs bought the drugs they weren't producing themselves directly from sources in Central and South America.
Informants connected to these Mexican nationals operating out of Paramount, South Gate, Downey, and Cudahy began whispering names such as Angel Felix Gallardo and Rafael Caro Quintero. We didn't make the connection at the time, but these men founded Mexico's first major Drug Trafficking Organization (DTO)—the Guadalajara Cartel.
This DTO had become such a problem that the U.S. Drug Enforcement Administration had assigned its agents to work with Mexican law enforcement in Mexico. A particularly effective DEA agent and former Marine, Enrique "Kiki" Camarena, was assigned to the Guadalajara office in 1981. In 1984, Camarena provided information to the Mexican Army that lead to the raid on "Rancho Bufalo," a 2,500-acre marijuana plantation. This dealt the Guadalajara cartel an estimated $8 billion blow.
The Mexican drug lord Gallardo demanded retribution on whoever was responsible for this raid and pressed his corrupt law enforcement contacts for the names. Crooked Mexican cops identified Special Agent Camarena and kidnapped him in broad daylight from the front of a police office on Feb. 7, 1985. Kiki was horribly tortured by his kidnappers and kept alive under the supervision of physician Dr. Humberto Alvarez Machain. His mutilated remains were found in Michoacán on March 5.
The U.S. authorities were furious and began pressuring Mexican President Miguel de la Madrid and his federal investigators to identify the murderers and arrest them. Eventually the key suspects were identified—Ernesto Fonseca Caririllo, Javier Vasquez Velasco, Juan Jose Bernabe Ramirez, Ruben Zuno Arce (a relative of former President Luis Echeverria), Juan Ramon Matta Ballesteros, Dr. Machain, Gallardo, and Caro Quintero.
Gallardo was protected from prosecution by his corrupted influential political friends. Without the benefit of legal extradition procedures, Dr. Machain was "snatched" by U.S. agents; brought to the U.S.; and tried in a federal court in Los Angeles. He was acquitted by the judge. The others were arrested and tried in Mexico. Matta Ballesteros was arrested in Honduras, and Caro Quintero in Costa Rica.
Caro Quintero was tried in a Mexican federal court and sentenced to 40 years in prison in 1989; the death penalty has been banned in Mexico. For 28 years it seemed that, at least under Mexican law, some justice had been obtained. However at 2 a.m. on Aug. 9, Camarena's murderer was released from Puente Grande Penitentiary in Guadalajara. The surprise release was due to a judicial tribunal's decision that Caro Quintero had been erroneously tried in a federal court instead of a state court.
Even the Mexican prosecutors were not notified of the pending release. In an unusual reaction, the Mexican Attorney General's Office called out the magistrates, naming them publicly. A statement from the office called the legal decision "absurd and illogical." Meanwhile Caro Quintero has disappeared.
Attorney General Eric Holder met with Mexico's Attorney General Jesus Murillo Karam to express "grave concerns and disappointment" with Caro Quintero's release, according to a U.S. Department of Justice press release.
"Nothing will weaken our resolve to hold accountable those who commit acts of violence against our brave law enforcement agents," Holder said. "The kidnapping and murder of Agent Camarena was a heinous crime that shocked criminal justice professionals on both sides of the border. Like many, I was surprised and deeply concerned to learn about the release of Rafael Caro Quintero last month. We will continue to work with our Mexican counterparts to ensure that Caro Quintero does not escape justice."
A Los Angeles Times article reported on the "controversial ruling, which many here suspect was the result of either incompetence or corruption." And "Camarena's killing severely strained U.S.-Mexico relations in the mid-1980s. Mexican police were involved in the crime, and U.S. officials suspected Mexican government officials of orchestrating a cover-up."
In May 1987, the United States Attorney's Office in the Central District of California indicted Caro Quintero for conspiracy and racketeering charges related to the kidnapping, torture, and murder in Mexico of Agent Camarena. The U. S. government has formally requested the extradition of Caro Quintero to face the charges.
However Mexican officials have said that a U.S. extradition order could not be based on charges related to the murder of Camarena, but they left open the possibility that he could be extradited for other charges pending in the United States. A Mexican judge has ordered his arrest. But Caro Quintero remains at large.
Several Los Angeles County Sheriff's deputies including myself were involved as technical advisors and extras in a 1990 television mini-series about the Kiki Camarena case, starring Treat Williams and Steven Bauer. It was called Drug Wars: The Camarena Story. It was based on actual events.