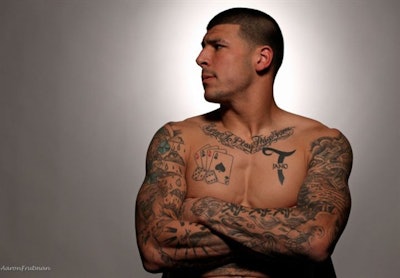 As the saying goes, a man is known by the company he keeps. Good company can make a man, whereas bad company can ruin him.
The city of Compton was a tough place to grow up. The opportunities for success were scarce as hen's teeth in that ghetto environment. Plentiful were the factors of poverty, drugs and criminal violence, which set many a Compton soul on the road to ruin. But even in the ghetto, hope springs eternal. Although it was a long shot, many of us dreamed of finding fortune and fame in the entertainment industry or as a professional athlete. And some eventually made it.
In other bad neighborhoods, poor minority kids grow up with talent and determination; they claw their way to the top. When they do, they often retain some of their ghetto baggage. Like sharks swimming in the ocean, they have pilot fish—the parasites living off the host's scraps. Dependant family members and former friends cling to their meal ticket. When these hang-a-rounds include alcohol or drug abusers and gang homeboys, tragedy becomes inevitable.
Like so many lucky lotto winners, the same fame and financial fortune that helps them escape the ghetto contributes to bringing them down. This is especially true for success stories with gang backgrounds. The entourage of these celebrity gangsters always includes their gangster friends.
The latest version of this story began in Bristol, Conn., where young Aaron Hernandez excelled at football. After high school, he played at the University of Florida. The New England Patriots drafted him for the 2010 season and gave him a five-year contract last year worth $40 million.
In late June, police arrested Hernandez at his Attleboro, Mass., home and charged him with first-degree murder and weapons violations relating to the killing of his friend Odin Lloyd, a semi-pro football player. Lloyd's body was found in an industrial park near the Hernandez home. The Patriots released the tight end less than two hours after his arrest.
According to news reports and Assistant District Attorney Bill McCauley, the problems began at a Boston nightclub called Rumor on June 14. Lloyd had been dating the sister of Hernandez's fiancée, and Hernandez had been upset when Lloyd talked with some people Hernandez "had troubles with."
Hernandez called a couple of friends from Bristol—Ernest Wallace and Carlos Ortiz. The three men picked up the victim in a car rented to Hernandez at 2:30 a.m. on June 17. Surveillance footage from Hernandez's home shows him with a gun as he left to meet Lloyd.
Since Lloyd's murder, authorities from other jurisdictions mentioned Hernandez as a possible suspect in several other shootings, including the double murder of Daniel Jorge Correia de Abreu and Safiro Teixeira Futado in Boston in July of 2012.
Bristol County Sheriff Thomas Hodgson is currently housing Hernandez in the Bristol County House of Correction. His gang intelligence officers have probably formed the opinion that Hernandez may be associated with a gang, but have wisely played down the issue to ESPN and other media outlets. Hernandez remains in a single cell because of his notoriety. Hernandez has reportedly denied any gang affiliation.
I was contacted by the Judge Jeanine Pirro show on Fox News Channel and asked to weigh in on Hernandez's gang affiliation. In the several non-football photographs I examined, I noted that Hernandez often wore lots of the color red. He had the word "Blood" tattooed on his hand, and in one photo he threw up the classic Blood hand sign. In my opinion, he identifies with the Bloods and "ranked out" when he denied this affiliation.
Hernandez is one of almost 30 NFL players arrested since this year's Feb. 3 Super Bowl, ESPN reported, citing a U-T San Diego database. Another 20 professional athletes have been charged with murder, homicide or manslaughter since 1967.
O.J Simpson and Suge Knight were not listed. Knight is best known as the president and CEO of Death Row Records, but his criminal career began when he was dropped from the Los Angeles Rams in 1987. He took up body guarding for rappers. Knight was also a member of Compton's Mob Piru Blood gang. Although never charged with murder, he was suspected of several killings including the murder of Brooklyn rapper The Notorious B.I.G.
This gang affiliation can work the other way around, when the player becomes the victim of gang violence. This happened in 2007 when Darrent Williams, a Denver Broncos cornerback, was shot in a drive-by on New Year's Day. Williams' killer rode in a vehicle registered to a Crip gang member.
In closing I leave you with this wise phrase often quoted by sages in these tough neighborhoods when speaking about these rags-to-riches stories. You can take the gangster out of the ghetto, but you can't take the ghetto out of the gangster.