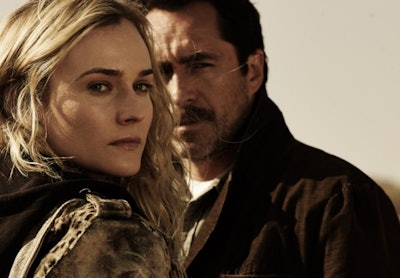 When I first heard about an FX show set in El Paso, Texas, and Ciudad Juárez, Mexico, that involved murder, kidnapping, cartels and dirty cops, I knew I had to see it. Several weeks into "The Bridge," my opinions about it are mixed.
The premise of the show's first season is a joint murder investigation where the victim is found on the exact borderline of the Bridge of the Americas that connects the two border cities. Things quickly get complicated when the primary investigators discover that the body had been cut in half with each half belonging to a different person—an American judge and an unidentified Mexican woman.
As the show progresses, we see the challenges that El Paso Detective Sonya Cross (Diane Kruger) and Juárez Detective Marco Ruiz (Demian Bichir) face in working together across cultural divides as well as in an environment of extensive police and government corruption.
Cross is almost painful to watch as a workaholic and emotionally stunted individual, and it's unfortunate that the show never makes clear the fact that the character has Asperger's syndrome. Knowing this, it's more interesting to observe the contrast between her and the more compassionate and intuitive Ruiz.
The plot evolves into the search for a serial killer who targets women, and who also seems to have some sort of political agenda involving the drug war. There are a few subplots that involve the cartel targeting a journalist and human and drug smuggling through a deceased millionaire's secret underground tunnel.
The progress of the show can be slow at times. The details are accurate enough, which is rare these days for a cop show, and is worth a look if only to appreciate the acting of Kruger and Bichir as their characters develop.
Sylvia Longmire is the author of "Cartel: The Coming Invasion of Mexico's Drug Wars." Her new book, "Border Insecurity," will be published in 2014.