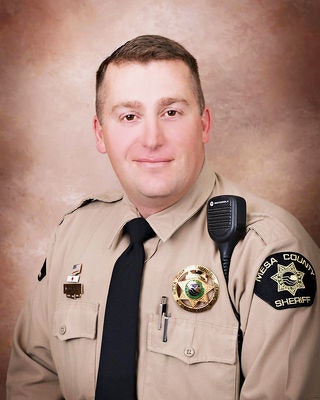 Mesa County Sheriff's Deputy Derek Geer is in "final hours of his life," on life support and awaiting arrangements for organ donation, Sheriff Matt Lewis told staff last night in an e-mail, reports the Grand Junction Daily Sentinel.
Geer, a 15-year veteran of the Sheriff's Office, was shot multiple times and critically wounded Monday while investigating a report of an armed person walking down a Grand Junction street.
The shooter, a 17-year-old Grand Junction boy, was taken into custody. Lewis did not identify him or indicate the charges to be filed against him during a news conference Monday evening, the Daily Sentinel reports.
Lewis praised the 40-year-old Geer, a U.S. Navy veteran who was hired by the Sheriff's Office in 2001 and has worked in several divisions, including the Mesa County Jail and the Mesa County Justice Center. Geer is married and has two children, ages 11 and 13, Lewis said.
"This is a person who has dedicated his adult life to this organization, to protecting this community and today, quite possibly, made the ultimate sacrifice," said Lewis, who alternated between the past and present tense in describing Geer. "This person was a member of this community. He was a father. He was a husband. His kids attend school here. He was active in many different things in this community. He's going to be known to many people."
Lewis said three deputies responded at 11:06 a.m. to a report of a man walking with a gun in the 500 block of Fruitvale Court and heading south toward E Road. The deputies encountered the teenager on the other side of the four-lane highway in the area of 30 3/4 and E roads, and Geer began talking with the teenager, who asked if he was going to be detained. When Geer told him yes, the teenager pulled away and an altercation ensued. Geer fired a TASER that struck the teen, but the teen pulled out a handgun and fired several shots at Geer, according to Lewis.
Police radio traffic captured Geer reporting that he had been shot and was "bleeding heavily" from his face. A pause followed, and then the deputy said he needed an ambulance. A deputy who responded to the scene found Geer had sustained multiple gunshot wounds and was not responsive.
"I ask the community to come together," Lewis said. "This is a time when we as a Sheriff's Office, we come together and we support each other. This affects more than just this office. This is a community effect as well.
"We're not OK today, but we will be. And we'll all get through this together."