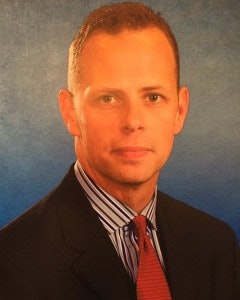 A Seaside (OR) Police officer shot and killed Friday night while serving a warrant has been identified as Sgt. Jason Goodding, 39.
The shooting happened just before 9:30 p.m. outside of the Pig 'N Pancake restaurant in downtown Seaside.
The suspect in Friday night's incident was also shot by police officers, and was taken to a hospital where he later died.
At a Saturday morning news conference at Seaside City Hall, Clatsop County District Attorney Josh Marquis identified the suspect as 55-year-old Phillip Ferry.
Goodding and another unidentified officer attempted to place Ferry under arrest when they spotted him walking down Broadway Friday night.
The suspect was known by the officers to have a felony assault warrant for his arrest.