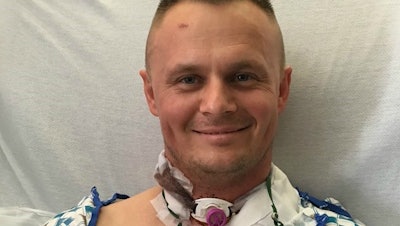 A California Highway Patrol officer who was slashed in the throat by a homeless man last week was on the mend Saturday at San Francisco General Hospital, authorities said.
Seven-year veteran officer Andre Sirenko has had his condition upgraded from critical to stable and was expected to survive his wounds.
In a prepared release, the CHP said "we would also like to thank the SFFD medics and the medical staff at Zuckerberg San Francisco General Hospital for all the work they have done taking care of Officer Sirenko."
Meanwhile, the man accused of slashing Sirenko was being held on $5 million bail.
Noel Corpuz, 45, made an initial appearance in San Francisco Superior Court Thursday on charges including attempted murder of a police officer, but did not enter a plea, KPIX TV reports.