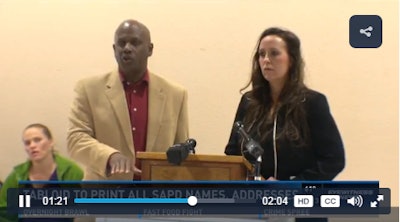 A little-known Texas tabloid that threatened to publish the names and addresses of every San Antonio police officer — as retaliation for a controversial officer-involved shooting — has backed off after national outrage, the New York Daily News reports.
San Antonio Observer editor and publisher Stephanie Zarriello likened local cops to Klansmen and sex offenders in a Saturday press conference, announcing her paper's plan in response to the death of Antronie Scott. The Observer is a small circulation tabloid covering African-American news. Police Magazine could not find a Website for the publication.
Scott, 36, was being followed by a undercover police officer Thursday night. Police say when Scott got into a car in a parking lot on Sahara Street, a uniformed officer was called in to arrest him but saw something in Scott hands he believed was a gun. He shot Scott once in the chest, killing him. The object in Scott's hand turned out to be a cellphone. No gun was found at the scene, KENS TV reports.
Zarriello stood down Sunday, accusing the media of misinterpreting her. She told News4SanAntonio she never planned to publish cops' names and only said she would to "make an officer think twice before shooting so fast and killing an unarmed person."