Two NYPD officers, one of whom was a groom celebrating his wedding day, were killed when their rental Maserati left the road Sunday, police said.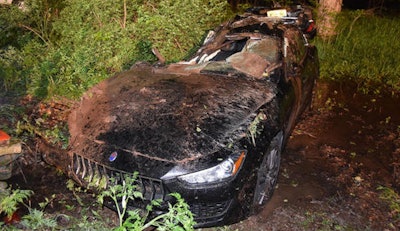 Michael Colangelo, 31, had just gotten married. He was from Huntington Station and had been with the NYPD for 10 years. He was assigned to the Emergency Services Unit K-9 squad, CBS New York reports.
New York State Police said just before 11:30 p.m. Sunday, Colangelo had just left a reception at Full Moon Resort and gotten into the Maserati with John Martinez, 39, a 16-year veteran of the NYPD who worked at the 84th Precinct in Brooklyn, and another friend. The car was winding around Oliveria Road when it veered off the road, hit a tree, and flipped over before landing on its roof.
Colangelo and Martinez were not wearing seatbelts and were ejected from the front seats. Police have to wait for autopsy results to determine who was driving.
A 28-year-old man was belted in the back seat and was rushed to Albany Medical Center where he's expected to survive.
"As far as we can tell, they were taking this car for a ride," said Major Pierce Gallagher of the New York State Police. "They were about a mile away from the venue."