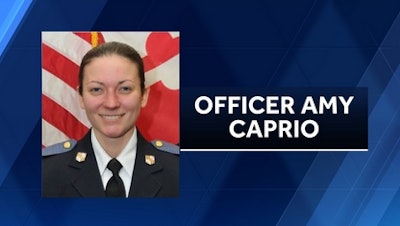 Baltimore County, MD, police said a 16-year-old has been arrested and charged as an adult in the death of a police officer on Monday, and three other suspects — all teenage males — were in custody Tuesday morning, reports the Baltmore Sun.
Dawnta Harris, 16, has been charged as an adult with first-degree murder in the death of Officer First Class Amy Caprio, charging documents state, reports WBAL.
The documents say Caprio was responding to a call around 2 p.m. Monday on Linwen Way to investigate a suspicious vehicle in the area. A 911 caller reported a black Jeep Wrangler near her home, and said three "suspicious subjects got out of it and were walking around homes." The caller then said the suspects had broken into the home, and that the first arriving officer was on the ground after confronting the driver of the Jeep, reports the Baltimore Sun.
The Jeep was later found abandoned nearby, in front of a home in Nottingham, and officers located Harris about a block from where the Jeep was parked, the documents said. Harris was later interviewed at police headquarters, where he admitted to investigators that he was sitting in the driver seat while the three other suspects committed a burglary.
He told officers he saw Caprio drive up the block and that she got out of her car and demanded that he get out of the Jeep. Instead, he "drove at the officer," the documents said.
A source familiar with the case said the officer's body camera video gives a clear view of her standing in the street as the vehicle comes at her. She fired one shot and got hit by the vehicle and was thrown, reports WBAL.
On Monday, police said the officer was critically injured, but did not describe what happened to her, reports the Baltimore Sun. It was widely reported she had been shot and run over. She was taken to MedStar Franklin Square Medical Center, where she was pronounced dead at 2:50 p.m., police spokesman Cpl. Shawn Vinson said.
Police said Caprio would have marked four years with the Baltimore County Police Department in July, reports WBAL. She is the 10th officer and the first woman to die in the line of duty in Baltimore County police history.