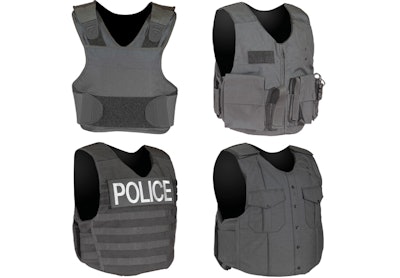 Every day the average patrol officer in the United States puts on a T-shirt, a ballistic-resistant vest contained inside a cloth carrier, and then a uniform shirt. The combination can be frightfully hot, it traps sweat against the body, and often on the next duty day the carrier of that ballistic vest is still moist with the perspiration from the day before.
KDH Defense Systems hopes to convince officers that there is a better way to wear body armor.
At this year's Shooting Hunting and Outdoor Trade (SHOT) Show, KDH introduced its radically different Transformer armor system. While most concealable body armor consists of ballistic panels contained in a cloth carrier that is strapped to the wearer's torso, the Transformer uses a unique harness system that directly supports the armor and holds it next to the body.
"With the Transformer, you wear the armor; the armor doesn't wear you," says Paul Larkin, KDH's national director of sales. "Oftentimes if you take a vest and put it up inside a carrier and you wear it, it'll move around on you. It will shift on your body. When you sit down, it may even choke you. With the Transformer, you don't have these problems because the harness holds the armor in place."
The Transformer system does not use a conventional carrier design. Instead, it uses sleeves to cover the ballistic panels, just for comfort or for additional functionality. The sleeves do not provide support for the panels, and some wearers have chosen not to use them at all.
"The harness and vest [ballistic panels] combination of the Transformer is as ultra concealable as you can get," says Larkin. "Some officers tell me that they want to wear the harness and panels over a T-shirt and not even worry about a sleeve."
Ultra concealable is just one of the many configurations available for the Transformer. Living up to its name, the Transformer can fit into a variety of different sleeves, including a uniform shirt sleeve, an overt vest sleeve, and a tactical MOLLE sleeve.
Larkin says KDH decided to rethink the basic design of body armor because of the NIJ O6 certification standard. "Pretty much because of the NIJ 06 standard, every manufacturer's body armor is close to being the same," he explains. "Line up five body armor manufacturers' vests, stand them up next to each other, and you probably won't be able to distinguish whose vest is whose."
KDH wanted to stand out, according to Larkin. So about eight months ago, the company consulted with a leading body armor designer and asked him to make a new kind of more comfortable armor system.
Larkin says one of the aspects of the Transformer system that he hopes will appeal to both individual officers and agencies is the sleeve. Each Transformer vest comes with five sleeves vs. the one extra carrier that usually comes with agency-issued body armor. KDH believes this will appeal to officers who want to keep their body armor cleaner and more hygienic.
"With the Transformer, you can wear a different sleeve every day of the week if you want," Larkin says. "You can even keep a couple of clean sleeves in your locker, and if one gets dirty, all you have to do is switch them."
KDH says wear test samples of Transformer body armor are currently available in protection levels ranging from II to IIIA in navy blue, white, and black. Owners of earlier KDH body armor designs can convert their armor to the Transformer system with a moderately priced conversion kit.