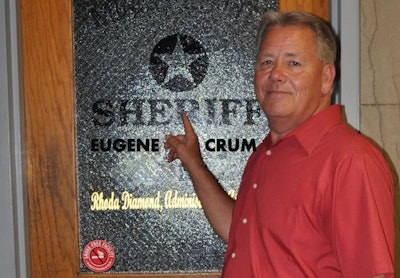 A West Virginia sheriff known for cracking down on the drug trade in the state's southern coal fields was fatally shot in a drive-by Wednesday while eating lunch with a deputy in his squad.
Mingo County (W.Va.) Sheriff Eugene Crum was shot four times after a car pulled up alongside his vehicle on Third Avenue in Williamson. He was parked in a location where he usually stopped to eat lunch. The shooting occurred about a block from a county courthouse, reports WKYT.
Suspect Tennis Melvin Maynard, 37, was taken into custody after a short pursuit, reports the Associated Press.
Crum was known for a tough enforcement program known as Operation Zero Tolerance and in 2012 the prosecutor's office saw the third highest number of felony convictions in Mingo County history, reports WOWK.