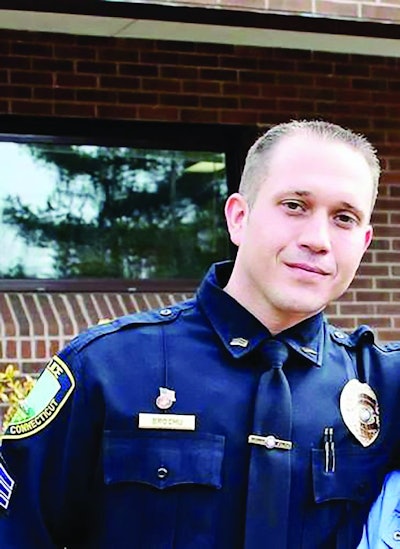 Justin Brochu has always had a strong sense of community and a desire to serve others. His need to help led him to the United States Marine Corps after graduating from high school. Then after serving his country from 1999 to 2003, this appetite to assist led him to law enforcement, where he landed at the East Haven (CT) Police Department. Finally, his devotion for the disadvantaged prompted him to raise his hand high when the agency needed a leader to help start the East Haven Police Athletic League (EHPAL).
For the past three years, Sgt. Brochu has led the charge to launch EHPAL in his community. In this role, he has coordinated fundraisers, managed legal details, and organized activities to get this effort off the ground.
EHPAL is now in full swing, and Brochu is excited for the changes he's already seeing within the nearly 30,000-resident community. This program recently launched its first athletic offerings, at a discounted rate, for children within the community. With police officers actively involved in these activities, Brochu predicts they will help improve police interactions with young people, who will see officers in a very positive role.
"A lot of interactions young people have with police officers are negative. This program is designed to promote more positive interactions with the youth of the community," he says. "We have had overwhelming support from the community to get this program started."
A Show of Support
EHPAL is a registered 501(c)(3) that is organized under the National Association of Police Athletic/Activities Leagues Inc. This national association has as its mission to "work nationwide promoting the prevention of juvenile crime and violence by building relationships among kids, cops and community through positive engagement."
National PAL is based on the conviction that young people—if they are reached early enough—can cultivate strong positive attitudes toward law enforcement as well as a sense of inclusiveness and good citizenship. According to the National PAL website, "Studies have shown that if a young person engages and interacts with law enforcement on the ball field, gym, or in the classroom, the youth will likely come to respect the laws that police officers enforce. Such respect is beneficial to the youth, the police officer, the neighborhood, and the business community."
National PAL provides chapters like EHPAL, which have grown to more than 300 across the nation, with resources and opportunities to aid them in organizing these programs. The resources the national organization offers may include funding opportunities through various grants, general liability protection options, programmatic opportunities through partner organizations, as well as goods and services provided by corporate partners and supportive like-minded organizations.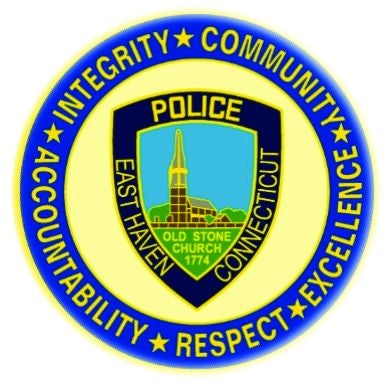 Even with National PAL's assistance, however, Brochu explains it took three years for his organization to launch its chapter. Besides needing to raise funds, EHPAL had to navigate the proper IRS paperwork for its nonprofit status and other legal matters.
Brochu and other officers volunteering for EHPAL worked tirelessly during this time to solicit support from the community, working with businesses such as Chili's Grill & Bar, Overshores Brewing Company, and Chipotle Mexican Grill, as well as private individuals.
They also organized fundraisers including a cornhole tournament, sponsored by Overshores Brewing Company, and a Kick-a-Thon, sponsored by Mike Conroy's American Martial Arts. The Fall Festival Road Race also pledged its proceeds to this program while Chipotle held a fundraising evening where they donated 10 percent of their sales to EHPAL.
"The support we have gotten from the community has been amazing," Brochu adds, noting they raised more than $5,000 to support the program, which like anything worthwhile has a cost.
He explains, "The insurance premiums for this program are $2,000 a year," he says. "We also have to stay affiliated with National PAL which is $500 a year. We also purchased T-shirts and uniforms for participants."
Put on Your Boxing Gloves
Boxing and martial arts offerings are among the programs that National PAL has found to work, and it is among the programs EHPAL is able to offer.
Mike Conroy, owner of Mike Conroy's American Martial Arts in East Haven, has offered his venue for the EHPAL programs. Brochu says that registration for the karate classes (ages 8 to 12) and boxing classes (ages 12 to 16) is underway. The program offers the classes at a discounted rate of $65 for six months, but registration is limited to 12 students per class and participants must be East Haven residents. The classes meet twice a week.
"They save close to $400 on the classes, which typically run around $120 a month," Brochu says. Afterward students are encouraged to continue with classes, though the discount has ended. Currently EHPAL does not offer any scholarships for ongoing participation, but Brochu says that may change as community support grows.
Young people must apply to be considered for the program. "Every application is run by the board of directors for approval," he says.
He adds the martial arts are great offerings for such a program because "the focus is self-discipline. When you work with an instructor like Mike Conroy, he will hold you accountable and that will help you use your new skills for the right reasons and not the wrong ones."
The program provides opportunities for kids to learn a new skill while also promoting positive interactions with local police. Officers stop by regularly to observe classes and interact with local youngsters.
The classes begin with an orientation on the program and what is expected of them during class. Brochu adds, "We check in on them during classes, both to cheer them on and to be there to help if they need to talk."
The Future
East Haven Police Chief Ed Lennon is quoted as saying, "We look forward to bridging the gap between the community's youth and the police department. Fostering a better relationship with our town's youth has always been a top priority for myself and for the officers who interact with them every day. We look forward to seeing what the future holds."
Adds Brochu, "Though our foundation is karate and boxing, we are also looking at adding flag football and baseball clinics and possibly lacrosse and soccer in the future."
The program will only grow as it moves forward and it will foster better police-public relations, Brochu predicts. "It sets the tone for the relationship going forward. Young people often automatically think of a police officer in a negative aspect but having positive interactions with police, who are able to mentor them and give them more of a personal experience, will help improve relations down the road."
Any police agency is eligible to participate in the National PAL program. To learn more about the National PAL program visit the website at https://www.nationalpal.org/.
Ronnie Garrett is a freelance writer based in Fort Atkinson, Wisconsin.