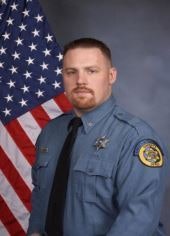 A Wyandotte County (KN) sheriff's deputy died Friday after a shooting that happened while a suspect was being moved from court back to the jail.
Officials say Deputy Patrick Rohrer died of his injuries from the shooting. Rohrer was 35 years old and had served 7 years with the Wyandotte County Sheriff's Office.
The other deputy is in critical condition, but officials have not released that deputy's name yet. The suspect was also struck in the shooting.
FOX4 reported earlier on Friday that two Wyandotte County Sheriff's deputies were shot at about 11:30 a.m. in downtown Kansas City, KS, not far from the courthouse and sheriff's office. This happened in a transport bay; sources say the inmate got a hold of a deputy's firearm.