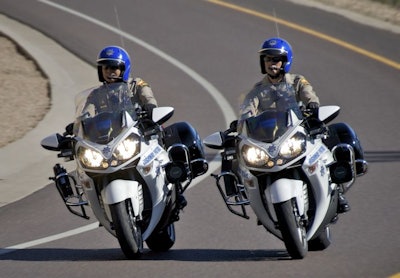 The Arizona Department of Public Safety is now the third state law enforcement agency in the western United States to adopt Kawasaki's Concours 14P as its primary motor unit.
The Concours 14P, a converted civilian cycle, has been available since 2008, when Kawasaki re-entered the law enforcement market. Three years earlier, the company had discontinued its KZ1000P, the workhorse cruiser featured on the television show "CHiPS."
Law enforcement agencies were slow to adopt the bike. However, its lights-out performance at the Michigan State Police vehicle tests in 2010 caught the attention of agencies.
Arizona troopers are now riding five of the bikes, and another five are scheduled for delivery in early January. The California Highway Patrol has agreed to purchase more than 400 of the bikes to replace its existing motor units. The Idaho State Police was the first state law enforcement agency to begin using these two-wheeled rockets.
Arizona's state 55-cycle motor unit is a mix of the Concours 14Ps, BMW R1150s, BMW R1200s, and Honda ST1300s. There are now 30 motor officers to patrol the state's four interstates and local highways.
Officer Jacob Pruet, a nine-year motor officer and driving trainer, meticulously research the bikes and won approval from the agency earlier this year to make the move.
Because they're running radar from a fixed position, troopers will benefit from the Kawasaki's quick acceleration (0-60 mph in 4.08 seconds) and nimble riding dynamics. Speed violators will have trouble outrunning this bad boy. A vehicle traveling at 70-75 mph will cover 105 feet of blacktop for each second that elapses after the officer locks in on the target.
"We need to be able to catch a speeder in a relatively quick amount of time in a short distance," Officer Pruet said. "This motorcycle gives us that opportunity to have quick acceleration but also a strong braking system."
In addition to its performance draw, the Concours 14P also offered the Arizona DPS a nearly $8,000 per-unit savings on upfront costs. The agency purchased the units from Beaudry Motor Sports.