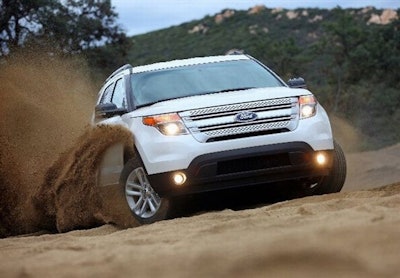 Ford Motor Company is featuring a Denver Police officer in a short film promoting the Ford Explorer called "Go Do Adventure: Men Vs. Mountains."
The Web video segment will eventually be featured with other similar episodes in an hour-long special on the Outside Television network. Six of the completed episodes can now be viewed at Ford Explorer's Facebook page.
In the law enforcement themed episode, Ford has paired a Denver PD gang cop with a reformed Los Angeles gang member, along with a seasoned climbing guide. The three men pack their gear into a Ford Explorer to climb the imposing Cardinal Pinnacle, near Lone Pine, Calif.
Denver PD's Officer Craig Klukas has worked in the street crimes division for six years. He's also an avid recreational mountain climber who was fired up to tackle Cardinal Pinnacle's 10,000-foot elevation and challenging four-pitch route to the summit.
Joining Officer Klukas is Gerardo Lopez, who grew up in the thick of gang activity in L.A., but later decided to steer his life in a new direction. Lopez, now a Denver resident, is the assistant director of GRASP (Gang Rescue and Support Program), which educates and counsels at-risk youth on the dangers of gang involvement. Rounding out the group is Joby Ogwyn, an experienced guide who reached the summit of Mount Kilimanjaro at age 18 and has summited Mt. Everest three times. He currently holds the speed record for climbing Everest.
"Almost all of Craig's previous interactions with gang members have been putting them behind bars," according to a Ford release. "Rarely does he have any contact with gang members outside of a criminal setting. This is a unique opportunity for Craig to spend some quality time with someone from the other side of the coin, doing something he loves, working together toward a common goal, and gaining a new understanding and perspective from the experience."
The Web video follows the three men as they ascend Cardinal Pinnacle's peak. The video was shot over four days. View more adventures at the Ford Explorer Go Do Web site.