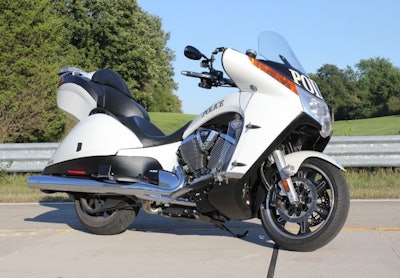 Police motorcycle manufacturers continue to see opportunity in a crowded niche, as two new cycles arrived in Michigan for the annual vehicle testing, a year after Kawasaki introduced its Concours 14P four-cylinder rocket.
This year, the Michigan State Police tested new offerings from Victory Motorcycles—the Commander I and Vision cruisers—among the six police motorcycles to be offered in the 2012 model year. The bikes were tested alongside the patrol cars on Sept. 17 at the Chrysler Proving Grounds in Chelsea.
The state police also tested BMW's R1200-RTP, Harley-Davidson's Road King, and H-D's Electra Glide.
A year ago, the Concours 14P recorded the top speed and fastest 0-60 mph increment among the bikes, as the new kid on the block. This time, the Concours 14P again secured the fastest 0-60 acceleration—reaching the mark in 4.08 seconds—but was bested in top speed by BMW's bike, which reached 131 mph to the Concours 14P's 126 mph. The BMW reached 0-60 in 4.41 seconds.
This year, H-D's Electra Glide (with the batwing faring) recorded the top braking performance, needing 139 feet to reach a dead stop from 60 mph.
Victory, a company based in Tucson, Ariz., pitched its new bikes as alternatives to the other cruisers with additional officer-safety features. The Victory Commander is designed with an undercarriage that keeps it from falling on its side. The bike will fall no further than 34 degrees and keeps its wheels on the roadway. The cycle also offers a heal-to-toe shifter with an easier path to neutral, a helmet lock, and saddle bags accommodating an M-4 rifle and two additional magazines.
The Victory bikes face tough competition in a market where approximately 4,500 police motorcycles are sold each year. Currently, H-D sells about 3,400 of the total. BMW sells about 500 bikes. Honda, which doesn't submit its ST1300 for testing, sells about 250. The Concourse 14P accounts for the remainder.
Look for more in-depth coverage of the testing in our November print issue. And view our archive of Michigan State Police testing from past years.
Related:
Michigan State Police Test 2012 Patrol Cars