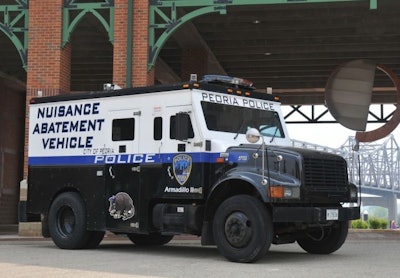 The St. Louis Metro Police Department's new armored car once transported hard currency. Now, the Ninth Division commander will deploy it to deliver information.
Once outfitted with surveillance gear, the truck will deter narcotics activity and deliver live-streaming video evidence to Capt. Joseph Speiss about nuisance properties being used by local drug dealers. The department plans to use the truck as a Nuisance Abatement Vehicle for surveillance missions.
After agency colors and badges are painted on the vehicle, police will add a slew of high-tech cameras, mobile surveillance gear, and "hardening" features such as ballistic headlights to give it greater durability and toughness on duty.
The department purchased the full-size armored truck for $10 from Brinks, who sent another truck to the Peoria (Ill.) Police Department for a similar mission. The vehicle will be able to provide live-streaming, 360-degree surveillance of several square blocks.
"Like all district commanders, one of the responsibilities we get thrown is nuisance properties," Capt. Speiss tells POLICE Magazine. "It could be a business or it could be a residence. My intention is to look at the properties we're having the most problems with — the most complaints, calls for service, assault reports, drug activity, and repeated complaints from neighbors."
Capt. Speiss won't be using the armored truck as a tactical vehicle. It's an "in your face" surveillance post to monitor the properties and collect video evidence to identify suspects and track crime patterns.
"It's not meant to be covert," Capt. Speiss adds. "It gives them a smacky in the face that we're aware of the behavior, and we're not going anywhere."
Typically, heroin dealers use homes or commercial properties that are vacant or occupied infrequently to distribute pills, or "buttons," of Mexican tar heroin packaged in gelatin caplets. Buyers typically drive into an alley alongside or behind the nuisance property to pick up the product.
Because officers have yet to establish probable cause to obtain a search warrant, these properties can be troublesome for drug enforcement. The properties are often well known by officers and have been a sore spot with the city's code-enforcement division that has been documenting neighbor complaints. Once enough documentation has been collected, a cease-and-desist order is filed against the property. If activity continues, the department can issue a summons.
"Sometimes you don't have enough for a search warrant for things like drinking or loud noise, but clearly it's something nobody wants to live next to," added Capt. Speiss.