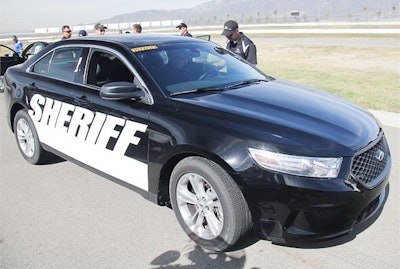 Editor's note: View our "LASD 2014 Model Year Vehicle Tests" photo gallery for detailed photos of the vehicles.
The Los Angeles County Sheriff's Department has completed its two-week evaluation of 2014 model-year police vehicles with a simulated city pursuit course.
The evaluation follows vehicle testing by the Michigan State Police in September. The two agencies use varying methods to reach similar results. For an in-depth look at the differences between the two, read "How to Use Police Vehicle Tests."
POLICE sister publication Government Fleet attended acceleration and driving dynamics testing on Nov. 7 at the AutoClub Speedway in Fontana, Calif. The results are preliminary; a final report will arrive in early 2014.
Chevrolet models tested included the Impala Limited 3.6L V-6; rear-wheel Tahoe PPV 5.3L V-8; and Caprice PPV 3.6L V-6 and 6.0L V-8. Dodge models tested included the all-wheel-drive Charger Pursuit 5.7L V-8 with 3.06 rear-axle ratio; RWD Charger 5.7L V-8 with 2.65 rear-axle; and RWD Charger 3.6L V-6 with 2.65 rear-axle.
Five Ford vehicles were tested including three powertrain versions of the Police Interceptor sedan — a front-wheel 3.5-liter V-6, an AWD 3.7-liter V-6, and an AWD 3.5-liter V-6 EcoBoost engine. Drivers also tested the AWD P.I. Utility 3.7L and AWD 3.5-liter V-6 EcoBoost. Ford has discontinued the FWD P.I. Utility due to low customer interest.
The AWD Charger and V-8 Caprice tied for the fastest 0-60 mph time at 5.8 seconds. They were followed by a dead heat at 5.9 seconds by the Ford P.I. EcoBoost sedan and RWD V-8 Charger.
Highway patrol agencies often evaluate vehicles for the "closing speed" an officer needs to reach to catch up with a speeder. The sheriff's testing unit measured the time it took each vehicle to travel from 60-100 mph. Ford's P.I. twin-turbo reached it in 8.2 seconds. Runner-ups were the RWD Charger V-8 (8.3 seconds) and V-8 Caprice (8.7).
In the SUV category, the P.I. Utility EcoBoost reached 0-60 mph fastest (6.5 seconds) followed by the P.I. Utility 3.7L (7.9 seconds) and Tahoe (8.5 seconds). The order remained unchanged in the 60-100 mph category with the vehicles recording times of 11.1 seconds, 15.1 seconds, and 18.1 seconds respectively.
Nine motorcycles across five brands were tested including the BMW F800 GT-P, BMW R1200 RTP, Harley-Davidson Electra Glide, Harley-Davidson Road King, Honda ST1300, Moto Guzzi California 1400, Moto Guzzi Norge, Victory Commander, and Victory Commander I.
In the 0-60 mph category, the R1200 earned the top time at 4.3 seconds followed by the Norge (4.5 seconds) and ST1300 (4.6 seconds). In the 60-100 mph category, the fastest time went to the ST1300 (6 seconds) followed by the Norge (6.5 seconds) and F800 (6.9 seconds).
Final results from the tests will be posted at the LASD website.
Related:
2014 Michigan State Police Patrol Vehicle Testing Results Released
2013 Vehicle Tests: Michigan Vs. California
2012 Michigan Vehicle Tests: Patrol Cars