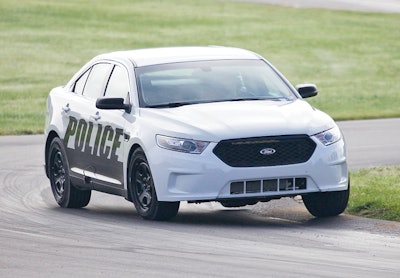 This year for the first time in two decades the crop of patrol cars that arrived for testing at the Michigan State Police vehicle evaluations didn't include a Ford Crown Victoria Police Interceptor. That is truly the end of an era.
Chrysler's Dodge Charger Pursuit, General Motors' Chevy Caprice PPV, and Ford's Police Interceptor are now the talk of the police vehicle world, as the Big 3 battle to see what company and what car will take the lion's share of what has been undeniably the Ford Crown Victoria Police Interceptor's market.
"Now there are three players, and the competition is greater than it's ever been," says Jerry Newbury, fleet operations manager with the Texas Department of Public Safety. "They're all listening to their customers and trying to give their customers what they want."
Embracing the New
Newbury, who manages 43,000 vehicles for the Texas Highway Patrol, Texas Rangers, and other Texas Department of Public Safety divisions, chose the Dodge Charger to replace the agency's Crown Vics. Newbury purchases about 1,000 vehicles a year, including 650 black-and-whites.
The Charger fit Newbury's need for V-8 power for highway pursuits and drug interdiction, and helped him stretch his fleet dollar. He will likely also purchase up to 40 Ford Police Interceptor Utility vehicles for the more inclement weather in the Texas Panhandle.
Texas troopers may need to tap extra power in highway pursuits. For municipal officers with more restrictive pursuit policies, a very durable vehicle is required. The Wilmington (Del.) Police Department and Montclair (Calif.) Police Department (see "Choosing Caprice") have selected the Caprice, which in 2012 will be in its second year of production.
"We gave consideration to two-officer units in an urban environment," Wilmington Police Chief Michael Szczerba says. "We like a car that remains conducive to two-officer units. Policing in an urban environment brings wear and tear on the vehicle."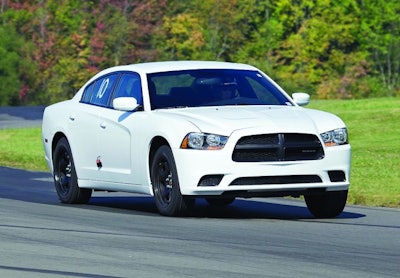 The Charger and Caprice offer rear-wheel drivetrains, which would be ineffective for the officers of the Salt Lake City Police Department, which is leaning toward Ford's all-wheel Police Interceptor. The agency must patrol hilly streets that can collect heavy snow between December and March, according to Sgt. Cameron Platt, fleet coordinator.
"We have some very high and steep hills," Platt says. "A rear-wheel drive for us just doesn't cut it."
Choosing the Status Quo
Ford's bid to stay on top among police vehicle manufacturers gets underway full-throttle in December when the Dearborn, Mich.-based automaker begins taking orders for its new Police Interceptors. Ford plans to deliver its vehicle to agencies in the spring. But because police agencies could still order Crown Vics for the 2011 model year, many opted to postpone their decision until 2012.
The Long Beach (Calif.) Police Department opted to stock up on enough Crown Vics to last three or four years because the Caprice and the new Ford Police Interceptor weren't available to fleet manager Jonathan Stafford at the time. The department bought 106 black-and-whites for a current fleet of 109 marked cars. The vehicles will be gradually phased in as cars go out of service.
The agency also takes comfort in the fact that automakers can continue to work out any glitches in the new vehicles. So that when Long Beach PD needs to buy new cars years from now, it will be buying proven models.
"It was much easier to go with status quo, to go with what we know," Stafford says. "Let the cars age a little, let them work out the kinks."[PAGEBREAK]
Watching Them Run
While purchase decisions are usually made away from the track, that didn't stop fleet purchasers from eagerly discussing the vehicles at the recent Michigan State Police evaluations.
At this year's MSP testing, the troopers of the Precision Driving Unit evaluated 12 four-wheel vehicles on acceleration, top speed, braking, ergonomics, communications, and fuel economy. Seven of the 12 sedans and Chevy's Tahoe SUV were run on E85 fuel.
The tests were conducted from Sept. 17-20 at the Chrysler Proving Grounds in Chelsea, Mich. A separate vehicle dynamics evaluation was completed at Grattan Raceway Park's two-mile course in nearby Belding.
The 2012 vehicles improved on the performance of the 2011 model-year vehicles with the Dodge Charger Pursuit, Chevrolet Caprice PPV, and Chevrolet Impala crossing the 150 mph top-speed mark for the first time. A year ago, police drivers behind the wheel of the Caprice PPV reached a top speed of 148 mph. A vehicle that can reach 150 mph certainly presents officer safety concerns, yet officers may sleep more soundly knowing the capabilities these new vehicles bring to the table.
During the annual MSP testing, the higher-torque Dodge Charger Pursuit (5.7-liter, V-8) and Chevrolet Caprice PPV (6.0-liter, V-8) were top performers for 0-60 mph and top speed, according to preliminary results. The Caprice also scored highest in the braking test.
The 2012 Chevy Caprice (6.0-liter, V-8) took the top-speed crown for the second year in a row, reaching 154 mph and surpassing the 148 mph time recorded by the initial model. Chevrolet upgraded its Impala for 2012 by adding a 3.6-liter, V-6 rated for 302 hp. The modifications add 70 horsepower, and the new souped up Impalas also feature a six-speed transmission. The new Impala reached 150 mph with E85 fuel.
Ford's Taurus-based Police Interceptor with all-wheel drive and a turbo-charged 3.5-liter V-6 reached 148 mph, and the Ford Police Interceptor Utility in front-and all-wheel drivetrains reached 131 mph. Lastly, the Charger in 2.65 and 3.06 rear-axle ratios reached 152 mph and 151 mph, respectively.
The 3.06-geared Charger vehicle also recorded the quickest 0-60 mph time of 5.83 seconds. Dodge first brought the pair of rear-axle vehicles to the Los Angeles County Sheriff's Department's test a year ago.
While the higher-torque Charger recorded the fastest 0-60 mph time, other vehicles weren't far behind. Other top performers included the Caprice (5.91 seconds), Ford's all-wheel drive, turbo-charged Police Interceptor (5.92 seconds), and the 2.65-geared Charger (5.95 seconds).
Stopping On a Dime
The 2012 vehicles improved upon the overall performance of the 2011 models, including some incremental strides in braking performance.
A year ago, Ford's all-wheel-drive Interceptor (non-turbo) led the field by reaching a dead stop from 60 mph in 126.6 feet, which was an improvement of 15 feet over the Crown Vic. This year, the Chevy Caprice V-8 was the quickest stopper, needing 125.8 feet to reach a standstill in the MSP test. Chevy's V-6 Caprice stopped in 126.2 feet. Ford's top braking vehicle was the front-wheel drive P.I. Utility (3.7-liter, V-6) needing 128.4 feet. The V-6 Charger needed 127 feet.
The Michigan State Police typically release their official results in late October or early November. Also, the Los Angeles County Sheriff's Department tests vehicles in November.
The year's tests were held Sept. 17-20 and included 18 vehicles submitted by Chrysler/Dodge, Ford, General Motors/Chevrolet, BMW, Harley-Davidson, Kawasaki, and Victory Motorcycles.
General Service Vehicles:
Chevrolet Caprice 6.0 liter
Chevrolet Caprice E85 6.0 liter
Chevrolet Caprice 3.6 liter
Chevrolet Caprice E85 3.6 liter
Chevrolet Impala 3.6 liter
Chevrolet Impala E85 3.6 liter
Chevrolet Tahoe PPV 2WD 5.3 liter
Chevrolet Tahoe PPV 2WD E85 5.3 liter
Dodge Charger 3.6 liter (2.65 rear axle)
Dodge Charger 3.6 liter (3.07 rear axle)
Dodge Charger 5.7 liter (2.65 rear axle)
Dodge Charger 5.7 liter (3.06 rear axle)
Ford Police Interceptor FWD 3.5 liter
Ford Police Interceptor AWD 3.5 liter
Ford Police Interceptor AWD E85 3.5 liter
Ford Police Interceptor AWD 3.5 liter turbo
Ford P.I. Utility FWD 3.7 liter
Ford P.I. Utility AWD E85 3.7 liter