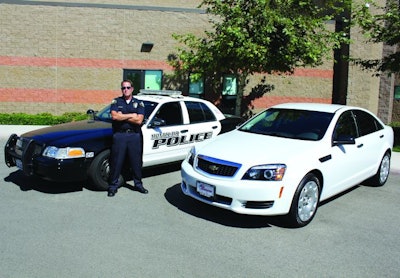 Montclair, Calif., police officers were initially skeptical about the agency's two Chevy Caprice PPV sedans-among the first in the nation to arrive in the field. Officers told command staff that the vehicles looked smaller than their Ford Crown Vics.
Chief Keith Jones and Capt. Mike deMoet then had officers sit in the back seats of both the Caprice and Crown Vic to compare them.
They noticed the spacious headroom of the Caprice. And when sitting in the rear of the Crown Vic, officers bumped their knees against the back seats. The officers then began to reconsider their view of the car, deMoet says. The Montclair PD has chosen the vehicle as its new black-and-white; it offers plenty of other advantages over the Crown Vics, deMoet says.
The Montclair PD took delivery of two white, detective versions (9C3) in September for testing by the chief and captain. These cars are nearly identical to the patrol version (9C1), except for location of the shifter. The 9C3's shifter is located in the center of the console, while the 9C1 shifter is located on the left side of the console to accommodate police equipment.
The department, which has 52 sworn officers, plans to replace its 20 vehicles with Caprice patrol cars beginning next year, Chief Jones says. The agency plans to make its initial purchase in July, after the start of the city's fiscal year. The agency will purchase new vehicles to replace Crown Vics that go out of service.
Other deciding factors that tipped the agency to the Caprice included the 100,000-mile powertrain warranty, 6.0-liter V-8 engine, and dynamic braking.
"One of the biggest things I like is the braking," Chief Jones says. "Usually when you do hard braking, the car will dip. This car didn't do that. It stayed straight and level."
The Forsyth County (Ga.) Sheriff's Office was the first law enforcement agency to receive the detective version of the 2011 Caprice. The patrol version is beginning to arrive for agencies as the year ends.