Chrysler will begin offering a special-service version of its 2012 Ram Truck 1500 Crew Cab for police, fire, or other emergency responders this month, the automaker announced.
The police version of the four-wheel-drive Ram features a selection of severe-duty equipment available to civilian buyers, and several unique features for officers. The automaker brought a display version to Michigan State Police vehicle testing in September.
Because emergency and municipal service trucks are sometimes left idling for extended periods of time, the Ram 1500 includes 100,000-mile sparkplugs and a larger oil cooler to protect the engine during the unforgiving stop-and-go operations of first responders, according to Chrysler.
"The Ram 1500 Special Service Truck has been engineered to handle the severe demands of law enforcement," said Peter Grady, Chrysler's vice president of network development and fleet. "The same characteristics also make it an excellent choice for the public works, maintenance, engineering, and fire departments."
To handle higher electrical loads, the Ram 1500 Special Service Truck includes a 220-amp alternator. A wire harness is capable of providing power, ground, and fusing for a variety of law enforcement lighting, siren, computer, modem, radar, or camera systems. The package also includes a power distribution center (PDC) with fusing and relays for circuits contained in the wire harness. The PDC is supplied from the battery with two separate 100-amp main fuses for camera, computer, modem, and printer systems.
The instrument panel houses a certified speedometer with engine-hour and idle-hour meter and a 110-volt inverter. The truck is available with a full-face steering wheel, four key fobs, and 10-way power front seats that accommodate multiple drivers.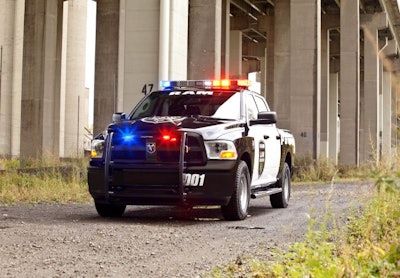 A special headliner with auxiliary dome lamp sits over cloth bucket seats in the first row and a vinyl bench in the second row. The center console is removed to add space for extra equipment and the shifter is located on the steering column.
The Ram 1500 Special Service truck is offered exclusively in a roomy Crew Cab configuration with 125 cubic feet of interior volume. Additional welds in the front door structures handle the weight of ballistic material used by law enforcement vehicle upfitters. The truck also is available with the popular RamBox storage system, measuring 50.5 inches with 7.3 cubic feet of lockable and lighted storage capacity.
Powering the new package is the 5.7-liter HEMI V-8 with a six-speed automatic transmission. The four-wheel drive has standard ESC. A 3.92-axle ratio, 390 hp, and 407 lb.-ft. of torque contribute to a towing capacity of 10,000 lbs. and a payload of 1,455 lbs.
Steel wheels wrapped with Goodyear LT 265/70R17 tires offer improved cooling to the ABS-equipped 13.2-inch front vented discs and 13.8-inch discs in the rear, according to Chrysler. The truck arrives with coil-spring rear suspension. The new model comes with a five-year, 100,000-mile powertrain warranty.