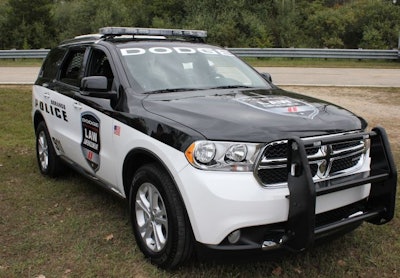 Chrysler may produce law enforcement versions of its Dodge Durango and Ram 1500 Crew Cab 4x4 if the automaker determines there's a market for the vehicles, company executives told POLICE Magazine.
Police versions of the vehicles were on display at the annual Michigan State Police vehicle tests at Chrysler's proving grounds in Chelsea on Sept. 17.
The vehicles would add depth to Chrysler's lone police offering—the Charger Pursuit patrol car—and provide agencies with two vehicles suited for more specialized or rugged missions. The company is still evaluating whether offering the vehicles would be economical.
"We're going to see if this is something to add to our fleet," said David Callery, program director of Chrysler's police and emergency response division. "If the business or market is there, we'll pursue it."
The Durango sport-utility vehicle in Michigan was equipped with a 5.7-liter, V-8 Hemi engine with all-wheel drive and a five-speed transmission. Rated at 13/20 mpg city/highway, Chrysler estimates a $3,102 annual fuel cost based on 15,000 miles at $3.10 per gallon. The vehicle was presented with the black-and-white color theme, a light bar, push bumper, and rear partition.
The unibody Durango, which is based on the Mercedes GL/ML platform, is rated to tow up to 7,400 pounds, a Chrysler spokesman said.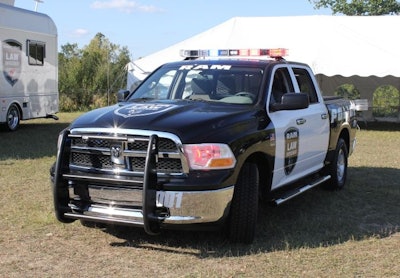 Dodge is offering its 2012 Ram 1500 Crew Cab to civilians as a four-door, six-passenger full-size truck with a 4.7-liter, V-8 (310 hp) flex-fuel engine. The vehicle includes a pair of "Ram Box" storage lockers for weapons and tools along the rear bed line. The vehicles could be used for commercial enforcement, K-9 units or drug interdiction, and could help marine divisions tow ATVs, boats and other craft, Callery said.
The vehicles would arrive in the same category as the Chevrolet Tahoe SUV, which is built on a truck platform. Ford's 2012 Police Interceptor Utility, a unibody crossover vehicle, is built on the Taurus sedan platform.