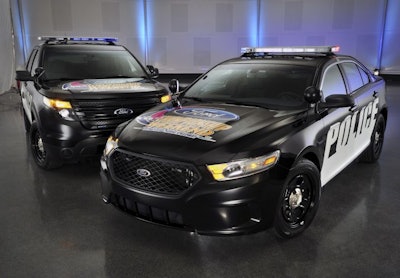 Ford's Police Interceptor sedan and utility will serve as pace cars for this year's Ford Championship weekend NASCAR races at Homestead Miami Speedway from Nov. 18-20, according to the company.
The Ford police interceptors join vehicles such as the Fusion Hybrid, the 2012 Focus, 2011 Mustang GT 5.0-liter V-8 and 2011 Explorer SUV as showcase vehicles used by Ford Racing in its NASCAR pace car program.
The Ford Police Interceptor Utility will be pursued by the field for all three races on Ford Championship Weekend, serving as the lead pace car. The sedan, which will serve as the split pace car for the weekend, arrives with a 3.5-liter V-6 EcoBoost engine rated at 365 horsepower that can reach a top speed of 148 mph.
"Having the opportunity to bring our new police interceptors to pace what is shaping up to be one of the most exciting final weekends in NASCAR history is a great honor," said Lisa Teed, brand manager for Ford's police interceptors, in a statement. "Both Police Interceptor vehicles provide the highest level of safety, performance, durability, driver convenience and comfort, and we're excited to be able to show off these new vehicles to the millions of fans on site and watching on national television."