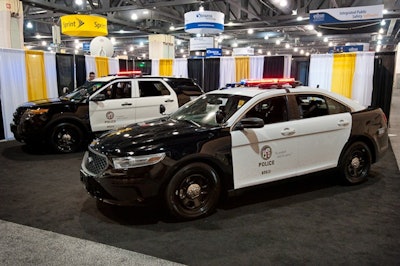 The Los Angeles Police Department showed off versions of Ford's Police Interceptor sedan and P.I. Utility at the IACP Conference in Philadelphia this week with an in-dash display that would de-clutter a patrol car's cockpit.
The agency partnered with Ford and several police equipment suppliers to add the in-dash touch display to help an officer manage lights and sirens, communication gear, and a video system that includes a thermal camera.
The vehicles showcase a sleek cockpit that strips away a bulky rugged laptop and the mounts that can pose a hazard to the officer during a collision.
"We're looking to provide a much safer version of the vehicle," Lt. Dan Gonzalez told PoliceMag.com. "It removes the laptop and the associated brackets and hardware. We've taken off all that compenentry and put it in the trunk."
At the center of the vehicle's innovative design is a 12.1-inch dashboard display (1280x800 resolution) that allows officers to toggle between police and standard modes.
The Havis-branded Integrated Control System is being rolled out via Crown North America vehicle integrators. Lectronix developed the modules and electronic vehicle infrastructure that ties together the systems. The Havis system includes the durable touch-screen display, audio/video extender, HVAC touch display controls, and an embedded processor.
The vehicles also featured Federal Signal's Valor lightbars, a Coban on-board computer, PIPS license-plate readers, and either a Motorola MW810 or Dell E6430 police computer.
At earlier IACP shows, the LAPD presented its concept for the next-generaton Dodge Charger and Chevrolet Caprice PPV.