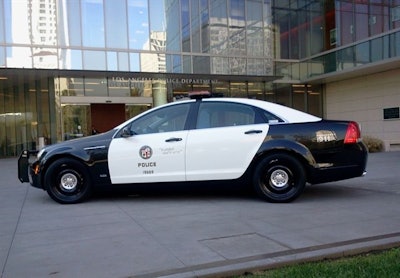 The Los Angeles Police Department's "smart car" concept for its next patrol cruiser may not be able to outmaneuver the Batmobile, yet it's loaded with enough high-tech features to catch plenty of non-comic book crooks.
The department started with a prototype Chevrolet Caprice PPV with its 6.0-liter, V-8 engine that delivers 355 hp to take the vehicle from 0-60 mph in six seconds. A factory backup battery helps keep the cruiser and all its technological gear running.
An infrared night vision camera on the front of the vehicle can detect suspects hiding in a bush or behind an object and display them on a 10- to 12-inch touch-screen monitor mounted in the vehicle's dashboard.
The integrated screen replaces articulating-mount laptops, and allows an officer to control lights, sirens, Automatic License Plate Recognition (ALPR) scanners, and other gear.
The ALPR housing also includes a color overview camera, and the cruiser can exchange data via a thumb drive, Ethernet, Wi-Fi, or a wireless mesh network.
The custom system could be added to new vehicles as they enter the department's 5,000-vehicle fleet, according to Vartan Yegiyan, LAPD's director of police transportation.
"We're working closely with manufacturers to create an embedded computer screen in the vehicles, so it becomes part of the vehicle, thus reducing any extra brackets or components," Yegiyan tells POLICE Magazine. "Think of a police car that has a big navigation system."
The cruiser's seats include cutouts for an officer's gun and radio so duty gear doesn't push on the lower back. A seamless partition minimizes blind spots for the driver. Cutouts in the rear seats accommodate a handcuffed suspect's hands.
The department chose the Caprice as its prototype, but hasn't a made a final decision about which cruiser it will choose after Ford ceases production of the Crown Vic this year. The agency is still considering the Dodge Charger Pursuit and Ford's Taurus-based Police Interceptor set for a 2012 model-year release.
The agency is rating new vehicles on safety, durability, performance and cost competitiveness in that order, Yegiyan said.
Next, the LAPD will build a "smart car" version of the Dodge Charger. These vehicles are designed to allow the department work out details for its next patrol vehicle, Sgt. Dan Gomez tells POLICE.
"We don't just build show cars," said Sgt. Gomez, who supervises the tactical technology section that oversees the advanced police vehicle project. "We build cars that will work. We're trying to make functional cars."
Editor's Note: AOL featured the vehicle in its "Translogic 55" video segment.