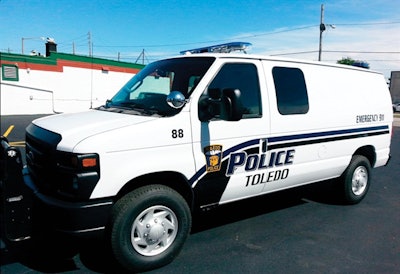 Rather than investing in a heavy duty bus, the Toledo (Ohio) Police Department has converted more economical Ford E-Series vans to round up disorderly college drunks and other scofflaws at chaotic scenes.
The agency has purchased seven Ford E-150 and five Ford E-250 vans—the E-150s will be outfitted for crime scene investigations while the larger E-250s will handle the prisoner transport.
Ford has gained greater attention for its new Police Interceptor sedan and P.I. Utility, but its E-250 van makes for an effective prisoner-transport option when configured with police equipment and security features.
A secure prisoner area includes a cage door nested inside the van's two rear exterior doors. The rear compartment can accommodate up to 15 prisoners that officers secure on two benches equipped with safety belts.
Officers can access the prisoner compartment through the van's two hinged side cargo doors and can also store police equipment in a storage area behind two front seats. Gun racks accommodate either shotguns or AR-15 rifles.
The van has also been equipped with a lightbar, push bumper, and stencil lettering that reads "Toledo Police: To Protect and Serve."
Related:
PHOTOS: Ohio Agency's Ford Police Wagon