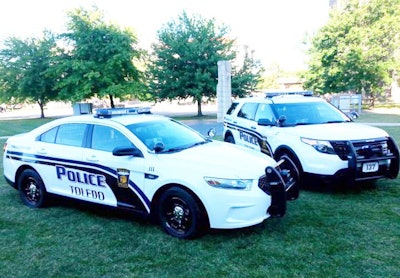 The Toledo (Ohio) Police Department is revamping its police fleet with 117 new Ford vehicles at a cost of nearly $3.5 million.
The new vehicles include 28 Ford Police Interceptor sedans, 25 Ford P.I. Utility vehicles, 51 Ford Fusion sedans, seven E-150 vans, five police wagons, and one Ford Expedition.
The city authorized the purchase of the marked and unmarked vehicles from its capital-improvements fund earlier this year. The vehicles were unveiled this week and several have been issued to patrol officers, Sgt. Joe Heffernan told PoliceMag.com.
"The thing that sold us most on Ford was the handling and the fact that they have the SUV that's pursuit rated," Sgt. Heffernan said. "The vehicles handle extremely well. They get 20 percent better gas mileage than the Crown Vics. A big selling point for us was the 75 mph rear crash rating."
The P.I. sedans and utility vehicles are being rolled out for the agency's three patrol shifts. The vehicles will replace many of the aging Ford Crown Vics and Dodge Chargers, including about half of the marked units.
The agency acquired several specialty vehicles, including 12 E-150 vans. Seven of those vans will be assigned to the agency's Scientific Investigation Unit (SIU) that processes crime scenes. The vans can accommodate scene lighting and other bulky investigative equipment. Five of the vans will be converted into police wagons to transport groups of arrestees during events or University of Toledo parties.
Detectives will receive the unmarked Fusion sedans, and the Ford Expedition will be assigned to the SWAT team. Storage racks for tactical rifles and other SWAT equipment will be added so the vehicle can respond to small riots, Heffernan said.
The agency purchased the vehicles from Brondes Ford, and has contracted with D.R. Ebel to equip them with police equipment. The $3.47 million allocated also covers the installation of equipment including lighbars, push bumpers, rifle racks, cages, in-vehicle computers, and video equipment.