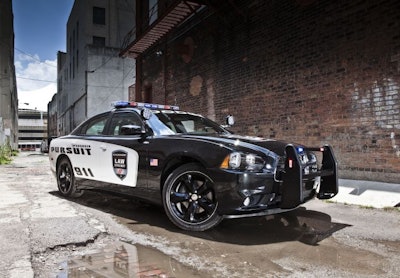 Chrysler announced several upgrades for its now available 2014 Dodge Charger Pursuit sedan, including high-performance brakes and several new police-specific security systems.
As previously reported by PoliceMag.com, the biggest change for 2014 is the new all-wheel-drive system for Charger Pursuit models equipped with the 5.7-liter HEMI V-8. The new AWD system features an active transfer case and front-axle disconnect for all-season traction.
In addition to the new drivetrain, Chrysler added larger, 14.5-inch high-performance brakes for 2014; made a camber link change to the rear suspension for improved performance during high-speed driving and aggressive braking maneuvers; made the fuel pump more durable; gave the vehicle a variable-displacement air-conditioner compressor for added efficiency; and revised the rear fascia and exhaust tips to enhance the Charger's ability to cross highway medians without damaging the vehicle.
Chrysler now offers a factory-installed Mopar horizontal or vertical vinyl graphics in addition to the other updates.
Chrysler will also offer the police-specific Secure Park system, which prevents someone from driving away in the idling vehicle without a key fob present in the vehicle itself, and the ParkSense rear park assist.